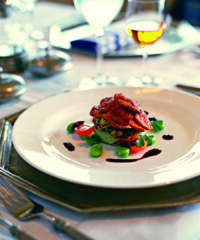 Any American's knowledge of New Zealand is limited to The Lord of the Rings trilogy. But what they may not know is that the humble, honest and understated style of New Zealand coupled with the lack of language or cultural barriers has been a huge draw for international tourists over the past decade. With its wide-open spaces, dramatic coastlines, California-esque climate and delicious food and wine, New Zealand's diverse natural environment is a traveler's dream. "Easy access to the ocean, mountains, lakes, beaches, streams, water and land activities, and great little cities and communities are just a few of the selling points," says Matt Lines, a founder of New Zealand luxury-travel company Seasonz. The country is safe, easy to navigate, uncrowded and incredibly beautiful. The island's quiet luxury is also a huge draw. "The pace of life, the natural environment, the rich cultural history and the climate make it an ideal setting for luxury destinations," says Neil McFarlane, general manager at New Zealand's Helena Bay Lodge. "Traveling through the country is an emotional and visceral experience." Last but not least, the diversity of the landscape is unlike anywhere else in the world. "In Northland, for example, you might look across sandy beaches toward the Pacific, while down south a view of alpine lakes accounts for some of the world's most dramatic mountain scenery," explains Hall Cannon, managing director of the Otahuna Lodge outside of Christchurch.
There is a discreetness that appeals to visitors, especially families and famous faces (Mick Jagger was spotted in the Bay of Islands recently). Maybe it's that you can land a G4 at several airports, including Auckland and Christchurch, and then hop in a helicopter to the front lawn of a lodge without being seen by anyone but the pilot. Tiger Management founder and New Zealand pioneer Julian Robertson has owned three luxury lodges in the country (Matakauri Lodge, Kauri Cliffs and The Farm at Cape Kidnappers—the last two of which feature world-class golf courses) since 2001.  Real estate financier Ric Kayne focused his energies on building the most expensive, members-only golf course in the country, the Tom Doak-designed Tara Iti Golf Club just north of Auckland. Newport Beach-based, New Zealand-born retail tycoon Peter Cooper continues to expand his stunning development The Landing in the Bay of Islands on the North Island with luxury villas to rent, a vineyard, boathouse and fitness and spa facility.
But it's not hard to see why travelers, affluent or not, would be keen to visit. "The nature in New Zealand is still relatively untouched," says Cooper, the executive chairman of Cooper and Company (the company behind Britomart shopping mall in Auckland). "Its massive coastline, great scenic diversity, public spaces, sophisticated urban centers and top food and wine attract new thinkers who embrace its values." With a population of four and a half million people, you can go days without seeing anyone and large protected areas of conservation are easy to find. The area's friendly, unaffected and informed Kiwis and its indigenous Maori heritage give it a distinct culture and a stable, progressive government makes foreigners feel safe. The country boasts millions of farms (with countless sheep and cows always in sight) and a robust dairy, wool and meat exports.
Within the last three years, the country has also benefited from a significant increase in airline service, with more international carriers flying to Auckland than ever before (we flew on Emirates airlines from New York City with a pitstop in Dubai). Air New Zealand's new nonstop flight from Houston, Texas, also makes the trip from the Midwest and East Coast easier. New Zealand is a multi-stop destination offering seasonal year-round activities. From the winterless North to the snowy peaks of the South Island, there really is something for everyone's holiday itinerary. From North to South, here's how to do New Zealand justice in two weeks' time.
The North Island
Helena Bay Lodge, an over-the-top, eight-room resort that just opened on 800 acres in November in Hikurangi (a two-and-a-half-hour drive from Auckland), faces east onto Helena Bay—making for magnificent sunrises and dramatic skies. From rolling pastures and natural bush areas to more manicured, formal gardens, verdant greenery is everywhere you look. "The lodge has a kind of old-world feel about it from the moment you arrive that makes you naturally relax and unwind," says general manager Neil McFarlane. "It has a strong sense of community spirit that makes you feel part of the ebb-and-flow of life here." No expense has been spared in the sensational (and massive) rooms and common areas; the 25-meter pool faces lush mountain farmland, while the spa boasts a cold plunge pool, sauna and steam room. "When building the property, we tried not to encroach too much on Mother Nature's intentions," says McFarlane.
The Lodge at Kauri Cliffs is set on a gorgeous location near Matauri Bay. The panoramic views of Cape Brett, the Pacific Ocean and Cavalli Islands are easily seen from the private porches of each of the 22 cottage suites, the main lodge and award-winning, cliff-top golf course. This was the first property that developer Julian Robertson and his late wife, Josie, opened in 2001 after falling in love with the country, and the property's whitewashed New England look is truly memorable. "From the lodge, guests can enjoy picturesque views of the award-winning championship golf course, hike through an ancient kauri forest or relax on one of three private beaches," says chief operating officer for the Robertson hotel group Euan Taylor. "Plus, some of the best island-hopping sailing is found in Northland." The estate is spread out over 6,000 acres of rolling hills farmland and guests also have access to Robertson's personal helicopter which can be rented for ecological and heritage tours of the area and to see the remaining ancient kauri forests of New Zealand.
The Landing in the Bay of Islands offers a different setup from a traditional lodge: four luxury villas to rent (which can accommodate four to 12 guests each), with a common vineyard, boathouse and fitness/spa facility exclusively for guests. The development is situated on Wairoa Bay and has its own jetty and beach, home to gorgeous 360-degree views of 144 islands—hence the name Bay of Islands. The historically significant land around the property features archaeological sites, restored wetlands, regenerated native bush and bird sanctuaries. For a pasttime that's peak New Zealand, try nighttime kiwi bird–spotting around the bay.
Located in the heart of Hawke's Bay wine country and positioned above 6,000 rolling acres with views to the Pacific, the 24 suites at The Farm at Cape Kidnappers may be the most grand—and yet also down-to-earth—farm in the world. "The lodge's design suggests a working farm for a more authentic experience, and affords views of the award-winning golf course carved alongside a dramatic cliffside that plunges into the ocean below," says Taylor. The lodge is located in the heart of cabernet and chardonnay wine country, and the property is surrounded by a native Manuka bush sanctuary.
Set above Palliser Bay, the secluded Wharekauhau Country Estate's 13 freestanding cottage suites offer unparalleled vistas—some of which can be viewed from their massive bathtubs. An hour-and-a-half drive north of Wellington, Wairarapa is known for its vibrant farm life (you'll find far more sheep than people), and its proximity to wine-growing regions. The Edwardian estate is set on a 5,500-acre working sheep and cattle farm with pastures, rivers and forests, as well as on a remarkable stretch of coastline. The property's three-bedroom cottage was compelling enough for the Duke and Duchess of Cambridge, who brought then eight-month-old Prince George with them for a visit to the island nation in 2014.
The South Island
The 19th-century Victorian estate of Otahuna Lodge, a 30-minute drive from Christchurch on the South Island, overlooks an ancient volcano and a 150-year-old botanic garden, originally laid out by a team trained at London's Kew Gardens. "The absence of global, five-star chain properties has meant that independent hoteliers have been able to start from scratch and develop highly unique, deeply atmospheric lodges," says Hall Cannon, managing director of Otahuna, who, along with his partner Miles Refo decamped from New York City to the South Pacific in 2005. "At Otahuna, we are able to show off our deep love for fantastic, locally sourced foods in a unique heritage environment." The 30-acre estate is so special that it's listed on the New Zealand Historic Places Trust.
Robertson's Matakauri Lodge—located on the South Island in Queenstown, known as "the adventure capital of the world"—offers striking views of Lake Wakatipu and rugged mountain peaks. The 12 individual, alpine-style bungalows face the Remarkables mountain range and offer jaw-dropping views from every room. "With stunning views across the alpine lake and rugged mountain peaks from floor-to-ceiling windows, guests can enjoy uninterrupted views from any vantage point on property, allowing nature to take center stage," says chief operating officer Euan Taylor. Don't leave without booking a scenic helicopter ride through Milford Sound. "The flight takes you over alpine lakes, rivers and forests, and through glacial valleys and over ice capped mountains" says Taylor. "Plus, a chance to land directly on a glacier is a true New Zealand experience."
Wine Country Worth Visiting
New Zealand's wine regions consistently produce fabulous white and red wines, many of which come from small, lesser-known vineyards. Discovering these gems and pairing their offerings up with the fabulous produce the country has to offer is a unique part of the journey. Cloudy Bay in Marlborough produces the country's most famous sauvignon blanc and is one of the oldest wineries in the region. Craggy Range in Hawke's Bay's onsite restaurant Terrôir is gorgeous and delicious, serving local produce alongside the vineyard's varietals set to the background of the Te Mata Peak mountain range. Gibbston Valley outside Queenstown features classic Central Otago wines in a stunning setting and is a great day trip from the city.
A Golf Course Unlike Any Other
The Tara Iti Golf Club, co-owned by Ric Kayne, opened in 2015 and has already solidified its reputation as the island's most exclusive-and most expensive-course; membership, estimated to cost between $10,000 and $20,000 per year, is by invitation only. "The natural beauty and amount of open space also lends itself to terrain for great golf," says partner Jim Rohrstaff, who oversees all of the real estate and membership activities for the property. "The course is playable year-round with a moderate climate and is a stunning coastline. There is very little true links land left like this anywhere in the world."