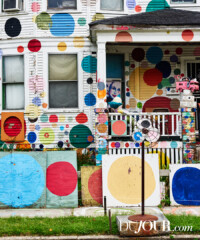 At the end of the last century, Detroit was left for dead, a rust-ridden festering wasteland of a bygone era. Its decline didn't happen overnight; the city that was once the mecca of American manufacturing, home to companies like General Motors, whose output in the mid-1950s rivaled the GDP of many first-world nations, had been on a steady decline. In just over 60 years, the population plummeted from 1.8 million in 1950 to less than 700,000 by 2014. The rampant blight—abandoned, burned out buildings, piles of uncollected trash and unchecked crime—had come to define a bankrupt, hopeless city that was beyond repair.
About a decade ago, however, a few key figures identified opportunity amidst the rubble, and the seeds they planted are lately starting to take root, as more young and creative businesses make Detroit their home. With Motor City now looking to define itself into the coming century, the revitalization is guided by an enduring, collaborative, hard-work ethos that has been at the town's core since its beginnings. 
Detroit native Dan Gilbert, the billionaire founder of Quicken Loans and owner of the Cleveland Cavaliers, and his company Bedrock Real Estate Services are rightly credited with much of what's happened downtown in the past few years. Even the staunchest critic, skeptical of what could seem from the outside to be an opportunistic land grab, can't refute the profound change he's catalyzed. Bedrock, by the numbers, has infused $1.8 billion of capital into the area, purchasing more than 80 properties equating to 13 million square feet, most of which is now rebuilt and re-occupied, and has created 8,000 jobs in the process. Gilbert doubled down on his hometown, stepping in when seemingly no one else with his resources would, and put the fallen colossus on life support. 
Francis Grunow, an urbanist and activist who has been involved with a number of revitalization initiatives such as Preservation Detroit and the Corridors Alliance, thinks Gilbert understands the city in a way that his forbearers did not. "I feel positive about him having as much free reign as he does because he values urban space," says Grunow, who's also quick to point out how unrealistic it is in the long term for any single person or company to rebuild and sustain an entire city. "It would be great to have five or 10 of them—at this point, there's space for a hundred of them." 
While the city was in dire need of the capital Bedrock provided, the company's real long-term contribution will be, as Dan Mullen, executive vice president of Bedrock describes it, "in building a community," drawing people and businesses back to downtown through a commitment to diversity. "It's not about bringing in just higher-end retail, it's about bringing in everyone," Mullen says. "We're definitely not the only ones making it happen, we're just helping create the conduit."
Mullen points to one particular project, a parking garage known as "The Z," as one of their proudest programming achievements. By commissioning 27 artists to create murals throughout the 10-story structure, they've found a way for it to serve two purposes. "I was telling somebody to park at the Z, and she called and said, 'I don't know where the parking structure is. I keep driving around an art museum.' And that's when I knew that we hit a home run," he says.
For as much as Bedrock has done in laying groundwork, the lifestyle brand Shinola has been instrumental in getting the word out beyond city limits. Started in 2011 by Fossil founder Tom Kartsotis, who bought the name from a dormant Rochester, New York, shoe polish manufacturer, the company trades heavily on a nostalgic celebration of Detroit's rich manufacturing history. Like Gilbert, Kartsotis found value in what others seemed perfectly willing to cast aside.  
From their downtown factory, the former site where General Motors engineers created the first artificial heart machine in 1952, Shinola employs 500 people, manufacturing high quality watches, bicycles and luxury leather goods sold around the world. Its assembly line includes many workers who are refugees from the auto industry, now handling miniscule watch pieces with tweezers in a dust-free, clinical environment. On a recent visit, employees wearing sterile Tyvek coveralls paused to say good morning as Janet Jackson's "The Pleasure Principle" played on the sound system. It seemed less like a historical reenactment of the city's manufacturing heyday than an affirmation of its new pulse. Though some might see Shinola as a carpetbagger, the company has become one of the preeminent ambassadors for the brand of Detroit, helping to draw more resources, people and energy back to a city that needs all the help it can get.
While there are plenty of signs of life, there is still a long road to recovery ahead. Matthew Naimi, the owner of a metal-scrap yard on the site of the first Lincoln Motors plant, reminds me that with over 140 square miles in the city's confines, what's happening downtown hasn't fully pushed out to its edges. "Downtown is an island of prosperity that's still surrounded by a moat of despair," he says. There remains a point in the atrophied outskirts where the street lights simply stop. And though the lights have come back on in some areas, the city is officially broke, its school system is abysmal and the slumbering giant Michigan Central Station still sits empty. 
As much as it provided the foundation for a culture of collaboration and innovation, Grunow explains that the city's relationship with the automobile has been a double-edged sword. As the industry boomed, so did Detroit, but, as he says, it was "a relatively small group
of people with an entrepreneurial spark that the city filled in around." And when they left for the suburbs, they took the city with them. Now there is a dire need to leave the one-industry-town mentality behind, toward a city capable of bearing a large degree of diversity and complexity. This makes Detroit 2.0 an urban planner and architect's dream, a nearly blank slate for the future city. "At this point, it's almost so far behind it's ahead," says Grunow.
One of those architects is Patrick Thompson, originally from Detroit, who worked in Chicago for a brief stint before returning nine years ago to set up his own firm. "As cliché as it sounds, I really believed I could make an impact in people's lives here," says Thompson, whose current projects include several residences and the Trumbull & Porter Hotel, opening this spring. Asked about new arrivals lured to Detroit by stories of derelict auto-barons' mansions going for pennies on the dollar, he's all for it. In fact, he says, the outsiders pouring in are accelerating the maturation of a new Detroit and seem vested in its future, while bringing expectations of good design from their previous cities. "I've yet to meet anyone who's said, 'Oh, wow I was wrong' and immediately pack up," he says. "Instead, they're finding this is a town where people cheerlead and will really help them do it." 
After experiencing such lows for so long, perhaps the only way to look is up. It's clear there is something special happening here, not only with Bedrock and Shinola, but the many startups filling in downtown and along the Midtown corridor. Projects like Wayne State's newly opened Integrative Biosciences Center, a striking $93 million state-of-the-art biomedical facility on Woodward Avenue, have turned an area long considered a no-man's land into a hotbed of technology and culture, anchored by the renovated Detroit Institute of Arts museum. And contributing to that creative energy, this fall also brought the opening of the Wasserman Projects in the nearby Eastern Market district, a 9,000-square-foot abandoned firehouse converted into a contemporary arts center. 
There is a palpable and even infectious optimism in Detroit, one that Grunow confesses he didn't expect to see in his lifetime. A city with such an illustrious history of making things can undoubtedly remake itself. "It's an exciting time to be here. There's so much going on, and let's hope it is a blueprint for other cities who may be in a similar state to say, 'OK, those guys got it right,'" says Bridget Russo, CMO of Shinola and a recent transplant herself. "All eyes are on Detroit."