Hollywood is not necessarily a town known for everlasting friendships.
Still, somehow, the actors Ian Somerhalder, 44, and Paul Wesley, 41, made it through eight seasons of bloodsucking on The Vampire Diaries and they still want to hang out every day. What's more, they now work even longer hours every week together.
"We hooked up when we got fitted for our fangs," says Somerhalder of a pre-production meeting in March 2009 for the CW series, which ended in 2017. "These were perfectly fitted acrylic fangs that didn't come off easily."
"You had to be careful in a scene," says Wesley. "You were supposed to just pretend that you were biting people."
"If you connected, it was gnarly," adds Somerhalder (who's married to another on-screen vampire, Nikki Reed).
Somerhalder knew the show was going to be a hit thanks to the Twilight craze sweeping the globe. The series lasted so long that the fangs eventually became visual effects, rather than physical props.
But in the beginning, at the fitting, Wesley wasn't so sure.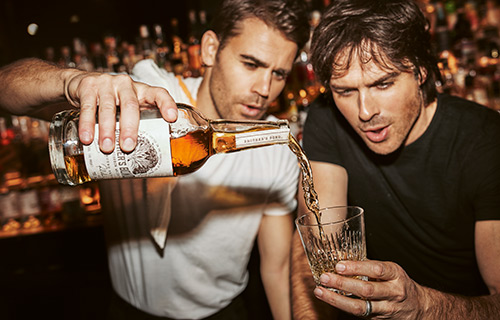 "I knew Ian was the pretty guy from Lost, and I thought, It'll be fun to work with this guy for a few months," says Wesley. "Ian was convinced that it would be a huge success. He said, 'Au contraire, mon frère,' which means 'On the contrary, my brother.'"
It turned out Somerhalder was right about the long-term appeal of the show. He was also correct, Wesley explains, to use the term "brother" to describe their relationship. They played vampire brothers on the show: Wesley was Stefan, mostly the nice one; Somerhalder played Damon, who started off as a psychopath before finding a more amiable way of vampiring.
Over time, their offscreen friendship blossomed into a brotherhood of its own, and, eventually, into the realization of a dream for both of them: a successful whiskey company. Based on their shared love of the beverage, they launched Brother's Bond bourbon, in 2021. The brand currently has three expressions, which are available in 46 U.S. states.
"Not to sound like a D-bag, but I'm working harder now than when we were the stars of a show," says Somerhalder. "We built a business and we're running a fucking company."
"In a way, it's even more difficult. It's not plug-and-play," says Wesley. They had to be on set nearly every day of their series "and it felt like it was a lot of pressure, but it was also someone else's pressure," says Wesley, meaning directors, writers, producers, grips and everyone else on the set and in post-production also had responsibilities. "Now, the buck stops with us. Every single thing is in our control. And we're trying to expand and grow."
"Failure and success start with us," says Somerhalder. "On a TV show, there are so many layers and levels above you. For Paul and me, if we fail at this, it's on us."
Anyone who's read a magazine or stopped by a wine store lately knows that alcohol brands are a very popular business move for actors, sports figures and boldface names alike. The gold standard is Casamigos tequila, founded by George Clooney and two pals in 2013. Just four years later, Diageo purchased the brand for a reported $1 billion.
Sometimes the hard work really pays off. But it's crowded on that liquor shelf.
To name just a few: Ryan Reynolds' Aviation gin, Bruno Mars' SelvaRey rum, Dwayne "The Rock" Johnson's Teremana tequila. Channing Tatum has Born and Bred vodka. Kate Hudson, Dan Aykroyd, Robert De Niro, Pitbull, Blake Shelton—they all have vodkas, too.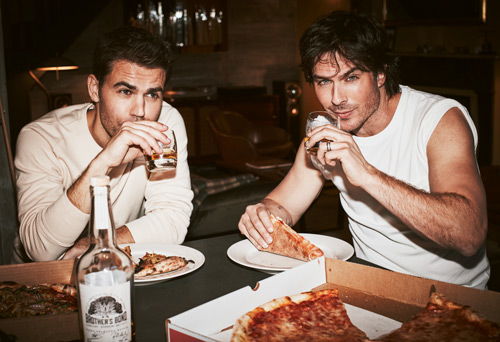 Did Somerhalder and Wesley call any of their celebrity pals for advice?
"I called The Rock, but he didn't call me back," jokes Somerhalder.
"I called Aaron Paul," says Wesley. Paul founded Dos Hombres mezcal with his Breaking Bad co-star Bryan Cranston, "and it's doing quite well," Wesley adds. "We all kind of bounce ideas off each other. We're not competing; we're all in it together. I literally was just texting them about paper and quality."
When it came to words of wisdom, Paul told the guys that they should be involved from the ground up, even on a—excuse the pun—granular level.
"The ones that failed," says Wesley, were the brands for which the celebrity "felt more like a spokesperson or an ambassador."
"We built the whole thing: the name, the bottle. We love to be part of the conversation," he adds. "We blended this in Ian's kitchen. There's nothing that's not authentic. People can sense that."
To that end, Somerhalder makes sure a percentage of the sales of Brother's Bond is donated to regenerative agriculture. He recently produced Common Ground, a documentary on the subject.
But when it came to growing the company from the seed of an idea to full-fledged business, "I didn't know what to expect," he says, "but I expected it to be easier than this. Still, we built it for a reason, and I'm obsessed with it." They have some new expressions planned. "We've been some busy bees. We're constantly in the development phase."
But back to their friendship, the brotherhood. How do they spend so much time together? Don't they get on each other's nerves?
"We're yin and yang," says Somerhalder.
"Ian's more optimistic and I can be more pessimistic," says Wesley. "I can get a little ornery."
"It's actually a really good blend," says Somerhalder.