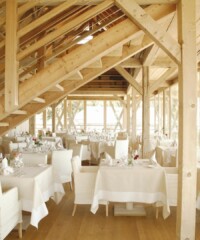 A new breed of far-and-wide travelers is emerging—the socially responsible type. As global sustainability issues continue making headlines, hotels and resorts have rallied behind green principles like recycling, energy efficiency and water/resource conservation. But with tourism accounting for an entire 5% of worldwide carbon emissions, the number of hotels supporting sustainability seems almost insignificant—much less the number of green-minded hotels that are beautifully designed. Adventurous travelers looking to reduce their carbon footprint while on vacation have three options from the Design Hotels group.
After teaming up with EarthCheck and Finding Infinity—two organizations focused on sustainability in the travel industry—Design Hotels curated a selection of eco-friendly resorts in Europe. In the Netherlands, Rotterdam's Mainport Hotel is set to receive gold certification from eco-auditing organization Green Key, based on the hotel's Green Team's emphasis on sustainability practices like automatic energy conservation and all-natural amenities. At the C-Hotel & Spa in Cassago Brianza, Italy, each of the 18 thermally-insulated rooms are kept at a balanced temperature to reduce carbon emissions, and travelers can enjoy produce and wine sourced locally from the resort. And Vigilius Mountain Resort in South Tyrol, Italy, is accessible only by cable car and is built with renewable resources like silver quartz, clay, and larch wood—and even features a grass-covered roof.
Hotels classified 'green' by the International Ecotourism Society or any related organization emphasize the benefits that environmentally conscious tourism has on the environment, and some even offer volunteer programs where travelers can directly give back to the communities hosting them, for an even more altruistic vacation.
Click through the gallery to get a closer look at these eco-friendly destinations. Visit Design Hotels for reservations.