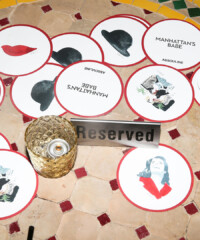 This month, luxury book publisher Assouline released its first illustrated novel. Known for their legendary and recognizable coffee table tomes like The Big Book of Chic, American Beauty and Dinner With Jackson Pollock, Assouline is taking it's first dive into fiction. However, the new work is just as beautiful as previous titles, with an eye-catching cover and  illustrations by Rafael Alterio.
The novel, titled Manhattan's Babe, tells a fictionalized tale based on the real-life romance of J.D. Salinger and Oona O'Neill. Their story starts before Salinger wrote The Catcher in the Rye, when he was just 21 years old and O'Neill only 15. Salinger met O'Neill in 1940s New York City, where O'Neill was a socialite who caroused with Truman Capote and Gloria Vanderbilt at landmarks like the Stork Club. Their relationship was cut short by the beginning of WWII. Salinger left for the Army, and O'Neill traveled to Hollywood. While O'Neill lived a glamorous life on the West Coast, eventually marrying Charlie Chaplin, Salinger survived D-Day and the battle in Hürtgen Forest, suffering PTSD after the war ended.
In Manhattan's Babe, author Frédéric Beigbeder imagines what would unfold if the two crossed paths years later. Says Beigbeder, "I would have liked to have known if Salinger saw Oona again after the war. That's obviously the starry-eyed teen in me. I think it was Oona who inspired the Catcher that would forbid us forever from growing old." Beigbeder is a world renowned literary critic, writer, filmmaker, TV host and the Editorial Director at Lui magazine. In 2005, he won the Independent Foreign Fiction Prize for Windows on the World. Beigbeder is no stranger to the Assouline brand, having previously contributed to Le Caca's Club in 2015.
See more of Manhattan's Babe here.