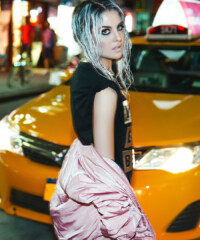 The female powerhouse Xenia Ghali climbed to the #1 spot on the Billboard Dance Club Songs chart with her electronic hits "Under These Lights" and "Places." She's collaborated with Grammy Award winner Wyclef Jean, signed to Pitbull's record label Mr 305 and has proven herself to be a unique style icon in the EDM scene as well as a fitness fanatic.
"Fitness is almost a must in my day-to-day routine. I always try to find an hour in my day to work out and then music. This obviously tends to be a little harder when I'm on tour, but depending on my schedule, I do try to find some time to work out a little, even in my hotel room," Ghali says of her fitness routine. As a brand ambassador for Adidas and Eastpak in Greece, her birthplace, Ghali works hard to maintain a balance between her music career and fitness. "Fitness and working out has enabled me to become so much productive," she admits. "I'm much more clear-minded when making music."
With an international fan base, Ghali has headlined festivals across Europe including the Colour Day Festival, Summer Paradise Lindos and has performed at iconic venues such as the Ministry of Sound London and Cielo in New York City. As a rising female star in the electronic music world that is primarily dominated by men, Ghali encourages women to become more involved in producing and DJing.
Click through the gallery above to see what a busy day in the Big Apple is like for this multi-talented artist.