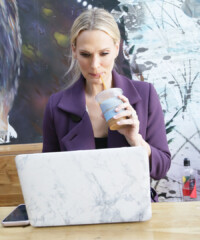 The former Sports Illustrated Swimsuit model and current wife and mother of three Molly Sims, is sharing all her secrets in her newest book Everyday Chic. Through her own personal experiences and stories, Sims reveals how she embraces the roles of home chef, party planner and design guru.
Sims explains that living Everyday Chic is not about perfection, it's about embracing the happy mess and adding in chic touches every way you can. "As women, we all strive to be the perfect mom, the perfect wife, the perfect everything," she admits. "It's just not possible. Everyday Chic is about making the most of what you have, being the most of who you are and creating a life and home you cherish."
As far as advice goes, Sims is the expert. Her top suggestion for planning a party at home is to start preparation as early as possible. She explains that a week before a party she can be found checking items off her to-do list. "Setting the table and adding any decorative pieces like a vase of flowers, make any dishes that can be prepared ahead of time, cutting up garnishes for cocktails," she says, rattling off an imaginary to-do list. "The more I prepare, the better I feel when my guests walk in the door."
This Supermom is used to a packed schedule with her three children and husband, Scott Stuber, so she always makes sure to carry wet wipes, Once Upon A Farm baby food pouches and of course, her makeup bag for a mid-day touch-ups.
See how this New York Times bestselling author and style icon spends a busy day in Venice, California in the gallery above.