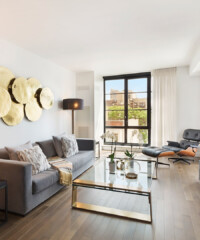 Early on in every cycle of America's Next Top Model comes a scene in which the lucky contestants are shown their housing situation for the season, to which the group inevitably responds by collectively freaking. While these sleek living spaces may be purely for show, Douglas Elliman agent Emory Stewart makes the top model-plus-million-dollar listing trope a reality by catering to a clientele of mostly models and influencers.
"My background is representing stylists, hair, makeup, that kind of thing," says Stewart. "I got into real estate basically to change the game creatively because I felt the game was a little boring and a little vanilla."
Using his fashion-forward CV, Stewart has quickly ascended the ranks of New York real estate. When Australian-Sudanese model Ajak Deng embarked on her apartment hunt, she enlisted Stewart's services to find one fit for a queen. First on the list was this three-bedroom at the Seymour in Chelsea. Perched on the sixth floor of this year-old boutique residential building, the apartment arrived practically camera-ready – especially when it came to the most important space in a model's apartment.
"The closets are great," says Stewart. "[The previous owner] actually redid them, so some of them are fabric-wrapped. Her closet is all Italian cabinetry, which is really nice."
But the closets are just the beginning. The place offers city vistas in three directions, gleaming Calcutta marble counters and white oak floors, plus plenty of amenities for non-fashion types. "[The building] has a gorgeous rooftop where you can lay out or barbeque," says Stewart. "Downstairs there's a gym, a library, an outdoor garden area, and a phenomenal billiards room."
With an open house this Thursday, September 6th, this hot accessory is a must-see for Fashion Week. For a front-row seat, click through the gallery attached.