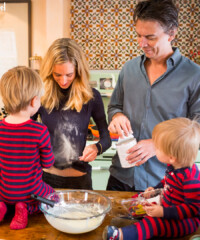 Rachelle Hruska MacPherson, founder and proprietor of GuestofaGuest.com, and Sean MacPherson, hotelier and restaurateur—Bowery Hotel, Jane and The Ludlow, to name a few—live an understandably busy life. But with two young boys and expanding empires, this husband and wife team is a force to be reckoned with.
Recently, the notoriously private couple opened the doors of their West Village townhouse to talented photographer Todd Selby, who captured the antique, mid-century vibe throughout the expertly decorated space.
Click through the gallery of pictures and read Rachelle's insights about family life, interior design inspiration and the couple's partnership with luxury stroller brand Bugaboo.
What's your secret to balancing two busy careers with two young kids? 
A sense of humor is essential. Life is short and then you die and when you think about it in those terms, things tend to fall into perspective. When all else fails, I meditate. 
What's a typical weekday like for you guys? A typical weekend day?
Weekdays we wake up early and enjoy an extended (and messy) family breakfast. The entire family attends to their jobs during the day (work for Sean and I, play for Maxwell and Dash). We reconvene for family dinner, which is our most cherished time of the day.
We feel lucky to live in New York City and try to take advantage of it. Weekends we tend to explore: museums, galleries, parks, flea markets—anything the city has to offer. Every Sunday our family has a pizza party at Gemma.
How'd you first get involved with Bugaboo?
We've been using Bugaboo from the start. I love the classic design and Sean loves that the arms extend so he doesn't have to hunch over to push the stroller. We are crazy about the prints and style—especially for our two boys, they are obsessed with camo print right now! As fans of both Bugaboo and Todd Selby, agreeing to participate was a no-brainer.
What room in your home do you spend the most time in? 
The kitchen. 
What are some of your favorite design elements?
We love the Scalamandre Zebra wallpaper in the boys' rooms and so do the boys, but our favorite piece of furniture is the swing hanging from our celling in our living room—a nod to Stanford White.
Where do you like to shop for home decor?
We tend to gravitate towards beautiful, odd or unusual items without provenance, as we feel their mysterious origins tend to make them endlessly intriguing.  So, we tend to comb flea markets and junk shops and garage sales when we travel.
Where do you like to shop for clothing?
I like buying vintage clothing as it tends to be unique and timeless. I just went to Inspiration L.A., the Japanese fair for art, fashion and vintage goods last month. I picked up the best Eastern European handmade dresses. I also love the stores OWEN, Reformation and Zara. I love high-low and new-old, but my favorite is shopping when we travel. I bought a few handmade sweaters in Uruguay over the New Year holiday and this winter the sweaters have transported me back to beach in South America.
What's your favorite part about your neighborhood?
We love walking through the West Village! New York has changed a lot through the decades, but walking the West Village streets still feel much as they must have 150 years ago. We also love the river and its amazing parks and urban sunbathers. We can't wait for the opening of the Whitney museum.
Main photograph shot by Todd Selby