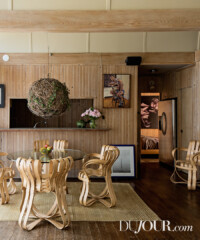 As Olivier Rose Van Doorne sees it, there are two types of people who visit his Fire Island hideaway, a modernist 1963 wood-plank structure designed by Horace Gifford: those who balk and those who just get it. Some are inevitably "disappointed because there's no marble, no sign of richness. And then there's the group in the know, people who love it because it's full of soul," says Van Doorne, the Versailles-born president and global creative director of Select World, a branding and advertising behemoth. "The soul of the house is very luxurious."
That je ne sais quoi resonated deep within Van Doorne when he was introduced to the tucked-away "bird's nest," as he affectionately calls it—the first and final stop on a property hunt in the island's historic Pines hamlet. Surrounded on all sides by an embankment of lush vegetation and free of traffic noise (cars and even bikes are forbidden in the area), the dwelling's inhabitants hear only the sounds of birds and, when leaves aren't rustling in the breeze, the nearby ocean surf. 
"I have never heard the chirp-chirp and the waves at the same time without any noise pollution," he explains, sitting back in his company's uber-sleek Tribeca headquarters, of the getaway's rare audioscape. "It's one of the magical things about that place, which is totally underestimated in New York City, because people here always think about drugs and sex."
Van Doorne, who spends every available weekend, Friday morning through Monday afternoon, mid-April through October, at the beach with his husband and their three dogs—"I organize my life accordingly," he says of his M.O. to maximize Pines time—bought the house from its original owner, a fellow Frenchman and proprietor of the Revillon fur company. Following the sale, or "passing the baton," he took extreme care not to alter the rectangular building's authentic design, despite what would turn into several years of restorative work. (Months before Hurricane Sandy hit, Van Doorne followed the advice of a friend and had the entire structure raised eight feet—a $400,000 decision that wound up saving the place from total ruin.)
While he owns homes in Manhattan, overlooking the High Line, and in Paris and Rio de Janeiro—"I want to sell Rio now and buy a place in Provence," he says, "but it's not a good time because Brazilian money is in the toilets"—the Fire Island refuge is his greatest love. Van Doorne, who at 56 cuts an imposing figure with his fresh–from–David Barton tattooed physique, lights up like a little boy when talk turns to his expansive garden. "It's kind of a queen-y thing to say, but women buy a couture dress every year—and I buy a garden," he says of his $25,000 collection of tropical plantings, which flower in shades of purple, pink and red.
"I love the way his modernist house is placed effortlessly within an ultra-lush tropical garden," says friend and photographer Matthew Brookes. "I know that Olivier treasures his time tending to his garden."
For as much time as Van Doorne likes to spend caring for his blooms and sunning on the rear deck, where he's just installed a small pool with an unobtrusive design, the abode is arguably most magical after sunset. Soft light paints interior surfaces from some 20-plus sources, which include recessed ceiling fixtures that accentuate the vaulted ceiling, as well as a ball chandelier fashioned from branches that casts a dappled pattern on the Frank Gehry–designed Knoll chairs and Garouste and Bonetti dining table below.
The house's three bedrooms and two indoor-outdoor bathrooms are situated off the central living area, which is flooded with daytime light and kept warm when temperatures drop by a wood-burning stove. (As is common in the area, the house isn't winterized, but Van Doorne's grown to love the bi-annual opening-and-closing ritual.) Adding to the sense of brightness, the two guest rooms, at the front of the house, have partial greenhouse-style glass roofs. From a collection of over 50 large-scale photographs by notable contemporary artists, with most of whom he's at one point worked, Van Doorne displays around 10 on walls of the retreat. The works include a picture of a rose by David Sims and one of the first portraits ever taken of Kate Moss, when she was 15, by Enrique Badulescu. Another shot, depicting piles of white powder, hangs above the living-room sofa. 
The furniture is an "eclectic" and "personal" mix of items picked up over the years, mostly in France, "just to feel at home," Van Doorne says, musing on the shabby-chic hodgepodge of flea-market finds. "There's a little Bohemian chaos in a very organized way." Another friend, Ben Burkman, co-founder and creative director of Burkman Bros, calls it "the perfect sanctuary for such a creative mind—a feast for the eyes and a great comfort for the soul."
Turning to reflect on that fateful day in 1998, when he first strolled up the boardwalk to the low-slung, unassuming façade, hidden behind the towering reeds, Van Doorne puts his hands on the table and pauses. "I loved it and said, 'OK, I'm done,' " he recalls. "I think choice is overrated. If it feels right—it's right."