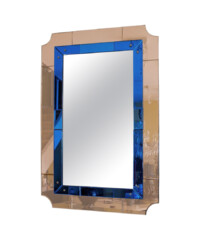 At just 26, Luke Edward Hall has curated—or perhaps in his case, created—a world with a very specific, appealing aesthetic. If one were to describe the London-based designer's distinctive aspect using color, they might call up pale pinks, pea-mash greens and golden shades of mustard. His creative outlook in a typeface? A slight, elegant Garamond. Or maybe a Deco Fancy Antique in capital block letters. 
Hall peppers his Instagram feed with images of a life even Evelyn Waugh might struggle to conjure: weekends with his impeccably dressed partner strolling the Jurassic Coast, taking in the sunrise at Chipping Campden, floating on the canals of Venice before cocktail hour. And his artworks, too—depicting reclining young men dressed like sailors form another era, a plate of simple fish with lemon, martinis—might seem absurd if they weren't echoed by his photos of everyday life.
Twee? Absolutely. But that's the point—and it's fabulous.
Hall graduated from Central Saint Martins in 2012, after studying menswear fashion design, and from 2011 to 2013, he ran Fox and Flyte, a thriving online antiques shop. He went on to work for the prominent interior designer Ben Pentreath for two years, before founding his eponymous range of fabrics and housewares, in 2014, and setting up his own interior design studio this fall. 
He's now working on the interior decoration of a Georgian country house in Kent, alongside several private and commercial artwork commissions, including illustrations for the Parker Palm Springs hotel. He's also preparing to open his first pop-up shop and selling exhibition in London this April. 
"I've included a mix of recent finds and purchases, and items that I long for but are not yet in my possession," says Hall. "I like old things and I like a few new things. I've filled the North London apartment that I share with my partner Duncan [Campbell, a creative consultant] with a variety of midcentury pieces, Georgian gems and contemporary objet. Certainly my big thing is color; I'm not really a monochrome sort of guy. I think interiors should reflect one's personality, and for me, should be warm, inviting and above all, must provoke a smile. Good use of color always provokes a smile."
Click through the gallery above to see a few of Hall's favorite things.