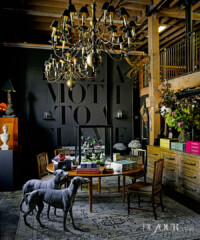 It isn't always easy to describe the projects Ken Fulk is toiling over, but when pressed to explain the work he does, Fulk sets the record straight, saying, "We create experiences."
Of course, that's something of an understatement. Fulk, 48, is widely considered to be San Francisco's secret social weapon. He's the man trusted by society swells and Silicon Valley heavyweights alike to help plan perfect parties, decorate jaw-dropping homes or curate any aspect of their rarefied lives. Running a team of 49 out of his studio—a 1920s building in the SoMa neighborhood that once housed an S&M leather factory—Fulk has thrown parties for the likes of Jean-Paul Gaultier (who celebrated his 2012 de Young Museum exhibition with an event featuring Dita Von Teese and a mechanical bull) and he overhauled the home of tech power couple Michael and Xochi Birch to include an old pub imported to California from the U.K.
While the work that Fulk does requires a highly trained eye, his is not the product of a classical design education. Founded in 1997, Ken Fulk Inc. was what could be called a happy accident. "A friend was selling her home in San Francisco," Fulk explains. "She called me and said, 'I had some idiot over here who was going to stage [the house], and I told him not to touch anything and that you'd be right over to do it.' Suddenly it was apparent to me that this was what I was supposed to be doing." Very quickly, Fulk booked similar jobs as news of his talents spread. "I was sort of like this house whisperer," he says.  
In the nearly two decades since the Virginia native settled in San Francisco, his interior-design work gradually morphed into something altogether broader. "I had never been trained as a designer," Fulk points out, having instead graduated from the University of Mary Washington with a degree in
English and history. "I never wanted anyone to tell me what kind of business I was supposed to have because it might limit me," he adds. 
Fittingly, Fulk's business has grown to encompass not only what he plans to do when he sets out on a project but also what he discovers that he loves to do along the way. He explains, "Someone once said to me, 'No wonder you love your job; you're a serial entrepreneur. Everything you do is a new challenge.' "
At the inception of any project, Fulk's creative process is always the same. "I equate it to a movie in my head," he explains in his enthusiastic but always well-mannered fashion. "Whether it's for a house or an evening, a restaurant or hotel, I ask myself, What's the point of view and what makes the story worth telling?"
This attention to detail isn't lost on Fulk's clients or their guests. "Ken imagines design like an old-world theater director," says Alexis Swanson Traina, a Fulk pal and creative director at Swanson Vineyards. "Every single detail is a rich, sensory experience that tells a piece of a great story."
Like many showmen before him, Fulk has become known for over-the-top productions. Take, for example, the lavish—and now infamous—2013 Big Sur wedding of tech guru Sean Parker. Fulk took charge of the immense fairy-tale-like visual design elements, which included a nine-foot wedding cake, a lounge area with fur-covered beds and more than 350 guests gussied up in medieval garb. The wedding generated an avalanche of media attention and garnered glowing accolades for Fulk from the generally reserved Parker. "Ken is the greatest living genius of interior design and architecture," the billionaire Napster co-founder says. "I don't speak this way about anyone. I micromanage every detail of every project I work on, but there is no one in the world but Ken I trust to execute with complete artistic autonomy and the highest level of artistic integrity."
It's often that extra something that separates the work Fulk does from that of his competitors. Take, for example, the time Cornelia Guest swept into San Francisco to promote her book Simple Pleasures, and Fulk's studio laid the groundwork for a memorable evening. A shared passion for animals inspired Fulk to round up a litter of adoptable puppies, accompanied by volunteers from the local SPCA, to be part of the event. "Ken is incredibly curious, which is one of my favorite qualities," Guest says now. "I think that's why he is so good at what he does."
Fulk agrees with that sentiment, albeit in a slightly more humble way. "We're perceived to be theatrical and outlandish," he says, "but I think the important thing is that what we do is always rooted in good design, in good taste, with a strong point of view."
Over-the-top events aside, Fulk and his team of employees are working hard to keep up with their growing roster of clients, which includes San Francisco's new private club the Battery, Sonoma winery Three Sticks Wine and a New York restaurant from the team behind Italian hot spot Carbone. 
Acknowledging the dedication and resourcefulness of the people who work for him, Fulk is quick with praise. "I'm proud of the work and the people who do these extraordinary things," he says. "They work tirelessly and have enormous creativity and a belief that we can make it all happen—we seldom, if ever, say no to our clients. That's why I call this the magic factory."
MORE:
Pop Shop: Inside the Studio Where Jeff Koons Makes Magic
Globe-Trotting Architect Peter Marino's Office
In the Land of Visionary Artist David LaChapelle