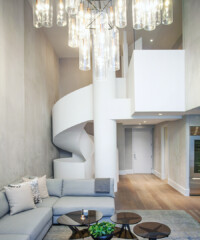 Most of the time, when architects are called in to do a renovation, they must devise a way to meet their clients' needs while preserving the character that drew them to the space in the first place. But when Lichten Craig was tapped to create a 5,000-square-foot triplex from three separate units in a glassy tower on Manhattan's Upper East Side, the challenge was to imbue character into what was, for all intents and purposes, a series of stacked glass boxes.
"There really wasn't anything of remarkable beauty within the apartment—mostly white walls," says Kevin Lichten, a partner at the firm, who worked on the project with associate partner Andrew Friedman. "It wasn't a traditional interior that might have had mahogany paneling, so there was never any talk of moldings or 'tarting it up' in a way. We really took inspiration from the fact that it was a modern glass building."
The first solution came in the form of a dramatic ribbon staircase that, along with the bleached-oak chevron floors, knit the three levels together, at the same time creating a bold focal point. "We wanted the feel of one of those Paris apartments that's been renovated but still kept the floors," explains interior designer Michelle Gerson, who pushed for the richly hued, custom chevron pattern.
Details like a double-height media room add additional distinction, while giving the teenaged children of the London-based family a semi-private place to hang out—the expansion was, in fact, motivated by their attending schools in the United States.
The architects also persuaded the family to put the husband's office on the top floor—he had initially suggested a space off the master bedroom—with a separate entrance, where he can conduct business at any hour without bothering the rest of the family or vice versa. They were similarly adamant about keeping the bedroom sacrosanct, transforming an adjacent room into a deluxe closet.
"It's a very Zen apartment, and pretty minimal in terms of its decor," says Lichten. "The furniture and fabrics really had to work closely with the architecture." 
Gerson used Venetian plaster, as well as antique bronze, brass and Calacatta marble accents to give the space an Old World flavor; there is also plenty of mohair and bouclé. Many of the light fixtures are vintage, or at least look it—for example, the Ted Abramczyk that hangs over the bed in the blush-toned master bedroom. Meanwhile, a French Deco fixture that the wife fell in love with, only to discover it had already been sold, was reproduced and installed in the media room.
Unfortunately, not all installations in the media room have met with such success—specifically, the skinny marble table Gerson placed behind the couch to dissuade crumbs in the cushions. "They eat on the sofa anyway," she says.