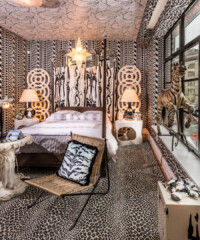 Get ready for the winter season with a festive trip to the Holiday House Design Show in Soho. Explore two attached luxury townhouses at 40 and 50 Sullivan Street with spaces created by New York's most notable interior designers including Ryan Korban, Patrick McGrath, Harry Heissmann, Jared Seligman and more. Each designer's room is based off of a different winter holiday or theme including Friendsgiving, Rosé All Day, St. Lucia Day, Black Friday, Holiday Tea and more.
Begun in 2008 by Iris Dankner, the exhibition promotes breast cancer awareness, with all proceeds donated to breast cancer research. This year, 95-year-old style icon Iris Apfel serves as honorary chair—be on the lookout for the portrait of Apfel by Bradley Theodore in the stairwell.
Get more information here.