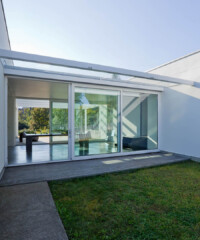 "I like to say that I do interior architecture, not interior design," says Federico Delrosso, who is known for his incredibly functional, modern spaces. By taking over an entire space, inside and out, the Italian architect has built his career on creating cohesion between the two, a global approach that encompasses the entire environment. "For me, it's an interesting challenge because you are more open. I have to keep the energy and passion and motivation high!" 
While this style of global design may seem rare in America, where the prevalence of rental units tend to hinder ground-up renovations and emphasize indoor décor updates, Delrosso believes this is poised to change. "There's a huge space for something more sophisticated," says Delrosso, whose newest firm just opened its doors right in New York City. "This is the time to be here."
The American architectural landscape is changing, with high-class development firms hiring name-brand designers to increase the value of their properties. Delrosso explains, "They know that to sell a very expensive apartment or unit, you need to see something different than others. It can't be the same luxury, luxury, luxury apartments over and over." By hiring a well-known architect with long-term working relationships that guarantee the quality of the product, a building is able to develop a unique point of view differentiating it from the surrounding all-glass skyscrapers. 
"For example, I can't understand why people are buying nice buildings—new, contemporary, glass buildings—and inside they create a classic apartment," he says. "What is the reason? What is the meaning? It doesn't make sense."
To see examples of Delrosso's European work, click through the gallery above.