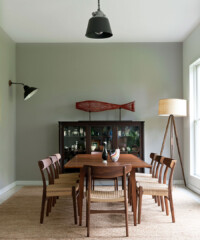 The classic Hamptons farmhouse is getting an upgrade. BLACKBARN, the brainchild of architect and interior designer Mark Zeff, offers custom-built homes "inspired by the barns and farmhouses of the East End, with a bespoke modern sensibility," according to developer Robert Dankner of Prime Manhattan Residential. Selling for about $4 million, each custom home features touches like industrial staircases, matte-black exteriors and wide-plank wooden floors—along with pools and tennis courts. "BLACKBARN is a departure from the McMansion-style houses that have become so typical; an exciting new alternative."
Zeff, who has created world-class interiors for the likes of Hilary Swank, Annie Leibowitz and Gabriel Byrne, has published a lavishly illustrated monograph, aptly titled BLACKBARN, which celebrates his seminal project and dream home. Browse through the attached gallery for a look inside the property.
BLACKBARN, $38.49, amazon.com.