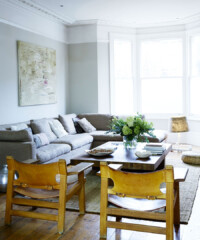 British designer Baukjen de Swaan Arons runs her clothing brand, Baukjen, with her husband and co-founder Geoff van Sonsbeeck, but that's not the only connection between her work and home life. The artful design of the clothing connoisseur's house pulls from the same modern aesthetic of her womenswear collection. The asymmetric lines, bold colors and emphasis on comfort and functionality are present in both aspects of the Londoner's life.
Here, Baukjen shares how she keeps her immaculate home kid-friendly, where she shops for her avant-garde furniture and how she incorporates the outdoors (quite literally) into her living space.

Your home and your clothing line both include very bright and vivid color palettes—what attracts you to these shades? 
I do seem to be drawn to vivid colors, don't I? And orange has definitely become something of a theme. I think that's because it's so bold and happy but less girlish than an alternative like pink, so it somehow feels like a more grown up choice. But believe it or not, I'm often a little reluctant to take the plunge with something bright (though I'm always pleasantly surprised with the result), and I'm generally swayed towards a more neutral palette—especially black. I have to admit that it's black that tends to win the wardrobe race. It's just so easy and beautifully timeless. 
How important is outdoor space to you? 
I think it's important to have a little oasis you can retreat to and an outdoor haven is just that. I'm very lucky in that we have a lovely space at home and at work. At home, the garden is accessible through very wide folding doors. The design is playful by having different levels and angles with lots of plants—we were inspired by [Dutch garden designer] Piet Oudolf. 
What are a few of your favorite furniture stores for some of your more luxurious pieces?

Abigail Ahern, Aria, Twenty Twenty One and near to London Bridge there are massive antique warehouses where we love to nose around for art deco treasures. We also like Ikea for basics—we have three kids so we can't be too precious.
How do you keep your home both beautiful and kid-friendly?
With a lot of clearing up! That and the fact that we designed it to be a family space, not a show home, so from the choice of the super large, neutral corner sofa that's perfect for movie days to the easy-to-clean floor and roomy living-kitchen space, we made sure there were no 'don't touch that' or 'be careful' areas. Luckily, we didn't need to compromise our taste—it all came together quite naturally. Oh, and candles. I'm a huge fan.
What's your favorite room in the house?
I'm between the bathroom with our huge bath that's become an essential part of my unwinding process and the fun of the living-kitchen space. It's tricky, but I'll have to go with the latter. I love weekend mornings when everyone is milling around, and in the winter, when the fire is roaring, it has such an inviting atmosphere.