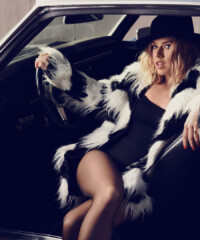 When the singer ZZ Ward started working on her latest EP, Love and War, she had nearly half of the songs for the record written. But by the time the 29-year-old chanteuse finished making the album, she says, "I had evolved my sound, keeping it fresh and doing something new with it."
The resulting work is a powerful collection of bluesy, poppy songs that are nearly impossible to ignore. Thanks to her collaboration with super-producer S1, who has worked with Madonna and Beyoncé, Ward was able to take the sound she's already known for and add an exciting, compelling new layer.
"S1 was brilliant to work with in the studio and really took me under his wing to teach me about production," Ward says. "I got a lot more involved this time around on this album, which was really fun, and I feel like I'm coming into my own and writing better songs than I've written before."
For the song "Miracle," Ward says working in the studio was vital. "We created a song in two different rooms of the studio at one time," she explains. "We had a tempo that we knew we wanted to work with, I wanted something that was going to start slow and then pick up in pace during the chorus. So I sat down at the piano and started coming up with the song while S1 and [producer] Epic stayed in the other part of the studio on their laptops and started to create the track. We couldn't hear each other at all." The resulting track turned out so well that Ward now says, "It's one of my favorite songs on the album."
Here, Ward shares some of her favorite photos from the recording of Love and War.