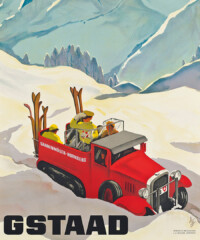 Ski buffs and the snow-averse alike can easily appreciate the bold colors, inventive typography and whimsical graphics of European ski posters from the early-to-mid 20th century. At a time when the sport's popularity was compounding at a breakneck rate, the continent's first resorts and hotels wasted no time trying to become recognized as the most glamorous and fun of the burgeoning lot. A winning result of these campaigns is the cache of original Alpine posters that can still be found. 
Enter Christie's, the venerable auction house, whose annual SkiSale is a big draw for aesthetes with a broad range in buying power (estimates range from $1,000 up to $30,000). It's one sale on the calendar where the image alone reigns supreme, piquing the interest of everyone from major collectors looking to adorn the cashmere-covered walls of their Gstaad chalet to onetime skibums in need of a showpiece above the mantle in their one-bedroom.
Herewith, a selection of highlights from the upcoming sale, which will take place on January 21 in London (interested parties outside the Big Smoke can bid online here).