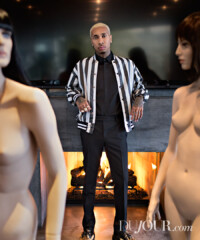 It's two o'clock on an atypically dreary Monday in Los Angeles, and outside Tyga's house there is a storm—and a scandal—brewing.
As a photo crew and styling team lug gear up the 26-year-old rapper's steep stone driveway, a young, bleary-eyed Kylie Jenner lookalike is huddled outside the gate, shivering in the light drizzle. Chez Tyga is one of six houses on a locked-off street high above the Sunset Strip, with no visible address, reachable only by the kind of byzantine, narrow roads that make UPS drivers hold their breath. The girl's hair is matted and slept-on, the extension tape visible from the back, and she taps her toe nervously while awaiting her ride. She is clearly wearing last night's shorts. 
But she is not actually Kylie Jenner, and therein lies the problem. Tyga, arguably more famous at this point for being Jenner's controversial on-off boyfriend than for his music career, refuses to discuss his personal life—a point his publicist took pains to assert. So leaving a random, scantily clad ladyfriend on your doorstep in the rain, right when the media is scheduled to arrive, seems like gutsy optics. Or at least an argument for buying a day planner. 
***
Who exactly is Tyga, besides possibly a poor scheduler? It's a fair question, especially if you've only ever seen the name in a Kardashian-flavored tabloid headline. Fans know him from his four albums and whopping eleven online mixtapes, his clothing and merchandise line Last Kings, and the occasional feud with industry big fish like Drake and Chris Brown (music site Stereogum called him rap's smarmiest villain; it was a compliment). His mother probably still thinks of him as Michael Ray Stevenson, although she no longer calls him that—not since he adopted the name he claims is an acronym for Thank You God Always. If you have ever been Tyga's landlord, you may recall him from your nightmares, given that he was recently embroiled in a five-figure rent dispute. If you're model and lash-extension entrepreneur Blac Chyna, you call him the father of your three-year-old son, King Cairo; if you're the aforementioned Kylie Jenner, the 18-year-old youngest heiress to Planet Kardashian, he is either your boyfriend or your ex, your worst idea or your best, depending on which week it is. And if you do read those gossip mags, you almost certainly are aware of the rest: allegations that Tyga and Kylie hooked up when she was still two years shy of legal, about which he may or may not have written 2015's boastful and defensive "$timulated": "They say she young, I should have waited. She a big girl, dog, when she stimulated." The day she turned eighteen, he publicly gifted her with a Ferrari.
At least Kylie got her own ride, although days after our visit, her lookalike got something just as impactful: notoriety. Amid a fresh round of Kylie breakup rumors, Tyga squired the same mystery girl in front of paparazzi in Beverly Hills, which spawned Internet reports identifying her as Val Mercado and introducing the world to her sultry Instagram account (a million followers and counting). Such naked plays to the press, though, only partway align with the way he presents himself to his 15 million fans on Twitter and Instagram. What they see is just as curated, but also impersonal and strangely detached: a stream of private jets and private driveways, promotional materials, and—a few weeks ago—a captionless photo of him in a creamy open-topped Maybach with custom Last Kings headrests. "I only like people to know what I want them to know," Tyga says. "People didn't know what Tupac was doing. That's why he was so iconic. Before [the Internet], it was real superstars." He pauses. "I don't engage with people that much. You can't base your life off waking up every morning like, 'What are people saying about me now?' Then I'd never stay in my creative headspace," he says. "I just want to put all my answers in the music." 
But the music paints just as murky a picture. His albums teem with suggestive tracks like "Bouncin' On My Dick" and "Pleazer," but there are also anthems of true heartbreak and regret like "Far Away," and even a casual Anne of Green Gables reference: "She datin' a rapper…Avonlea she never after." Marilla Cuthbert would not know what to make of this. Would Tyga, in the flesh, clarify the issue? 
As it turns out, Tyga's contradictions are the norm. "Imagine Urkel with a little swag," he self-describes in one of his songs, but Urkel is high-pitched and excitable, while Tyga—a slim, compact, tattooed five-foot-eight—comes across as soft-spoken and introverted, lacking the grandiose swagger one might expect from his Instagrams. He met our arrival with a glance and casual wave, as if we pop by at that time every day for General Hospital, before returning to his omnipresent iPhone while his friends loudly horsed around with King Cairo. In front of the camera, he exclusively opted for a signature scowl. And yet when his assistant started the clock on our interview, he was focused and relaxed, fully content to shoot the shit. This may have been a well-honed ability to freeze out white noise, borne of a life that's starting to be lived in the spotlight, but it may also have been herbally aided: When he shuffled downstairs for a pre-shoot haircut, clad in old Bape sweatpants with a shark's gaping maw on the crotch, he resurfaced an hour later cloaked in a rubbery fug of pot. Interviews sometimes make him nervous, he would later admit with a grin, and weed is his stress relief: "Like everyone else in the world."
There were certainly flashes of insecurity when it came to his wardrobe. Though Tyga's friends spent the day either snacking on Chinese food or disappearing into bong-filled breach, it was all hands on deck as soon as the rapper needed a costume change. "I don't know, man," fretted the self-proclaimed Baller of the Year as he contemplated a pair of thick-soled black brogues with brown fur on the toes. He twisted this way and that, striking timid poses and taking sample photos on his iPhone, never lifting his gaze from his high-fashion Hobbit feet. "They would look weird from up there, but from the outside, they're dope," his friend finally said, meeting Tyga's eyes with a grin. "Just don't look down." The shoes stayed. 
Entire color schemes, however, were vetoed; studded Givenchy pants deemed all wrong for a gold Saint Laurent jacket that said "BANG" on the back. Stripes were a merciful go, until someone remembered rapper A$AP Rocky recently did something similar. And still, somehow, despite sweating every last detail of five separate outfits, Tyga—the same guy who allegedly spent $120,000 decking out his Last Kings clothing store in West Hollywood to evoke the grandeur of ancient Egypt—had to be reminded to wear his diamond rings. "Oh, right," he said, glancing down at his naked fingers before scrambling upstairs.
The house itself is a five-bedroom, fully furnished modern affair whose website lists it at $40,000 per month. That hefty price tag buys you dark wood floors, chrome and glass railings, three stories, and an infinity pool. The only thing that makes the place feel like home, he says, is a tiger-striped motorcycle that sits in the vestibule: He rode it, he fell off it, he relegated it to sculpture. 
It's all a far cry from the tidy two-bedroom apartment in south L.A. where he grew up, which he estimates could easily tuck into half of his current first floor. The truth of his youth, he says, is simple: He's just a hungry kid from Compton and Gardena who recorded his first song at age 12, and handed his mixtape to his famous cousin, Gym Class Heroes' Travie McCoy. The rest is distant history. "I've been this person for so long now—half my life," he says, as if to shrug off his "Before" phase. "I had faith that music would be able to take me somewhere. I didn't know where. I just was like, 'Keep having faith, and any doors that open, I'll walk through them and see what happens from there.'" 
Forty grand a month certainly buys enough doors.  But it's also a big monthly bill for a guy whose greatest claim to fame thus far is the identity of his bedmate. Spin called 2013's Hotel California "inexcusable," and Pitchfork noted of his most recent release, "The one thing Tyga is great at is showing up." It's true that his work ethic is indisputable. Tyga is prolific by any definition, with albums and mixtapes tallying 235 songs and counting—the equivalent of releasing a new track every twelve days since his first studio release in 2008, and more than double the output of Kanye West over a longer period. "It's like someone that paints, you know?" Tyga says. "They can make their best painting, but they still just want to keep painting." 
But quantity doesn't always equal quality, and widespread commercial or critical success has eluded him, save for joint projects like a well-received album with Chris Brown. He is starting to supplement that with side gigs, like his short-lived MTV reality show Kingin' With Tyga (in one episode, he puts a basketball court in his bedroom; in another, he suggests smelting something gold to make a gift for his son). There was an estimated $1.5 million deal with Reebok to make a custom sneaker, a 2014 pact with L.A. Gear to aid its relaunch, and a reported $5.5 million contract with Shine to slap Tyga's branding on their 24-karat rolling papers, a packet of which sat out on his kitchen counter next to a dish of about four car remotes. He has collaborated on t-shirts with New York design darling Alexander Wang, and his Last Kings brand is opening a second store in Orange County later this year. Inspired by the likes of Pharrell, Kanye, and Diddy—all of them geniuses at morphing a career into a brand—Tyga enthusiastically uses the word "collab" four times in fifteen seconds and cites a role on American Horror Story as being on his bucket list. (It wouldn't be his first scripted gig—he had a small part in 2015's Dope, and another in the forthcoming Bruce Willis film Going Under.) Still, Tyga insists that music is the center of it all. "I only have so much creative energy. I have to decide what to devote it to," he says. "You should try to master one thing first, instead of juggling."
To that end, he is pushing ahead with his next studio album, due in spring, and vows to be filling arenas by the end of next year. "You gotta hustle, whatever you do," he says. "Everything takes time. We're all human, so things are always going to get to you. If we were robots it'd be easy to shut it off, you know what I mean? When you got faith in something, you just gotta go with it." Faith is a common, constant buzzword for Tyga, who grew up Catholic, dabbled in other non-denominational sects, and then seasoned it all with flavors of Ancient Egypt and an interest in psychic energy. (Even his spirituality is a curious cocktail.) It all brought him to a place where he doesn't just speak in terms of success, or legacy, but ruling. On 2012's Careless World: Rise of the Last King, he notes, "We all dream one day we kings and queens." What manner of king does he aspire to be?
"Hmm," he ponders, before nodding confidently. "The King of Dopeness. You know?" 
If there's one person who might appreciate that goal, it's Kanye West, Kylie Jenner's brother-in-law and no shrinking violet when it comes to the desire for world domination. From a mentoring standpoint, Tyga values his recent proximity to West. "You learn something by just having a conversation with him. And he listens, and that's the thing I do," he says. "I listen to everybody and then I take it and put my own thought on it. That's just how life is. God puts us in places. It's for you to make the decision whether you go left or right."
Then he glides back in front of the lens, gazing with studied blankness out the window from his perch atop both the Hollywood Hills and a mountain of vintage Louis Vuitton luggage. The glittering sprawl of L.A. stretches infinitely beneath him. He does not look down.
See our exclusive video with Tyga
In main image: Jacket, price upon request, SAINT LAURENT, available at Barneys New York (310)276-4400. T-shirt, price upon request, BILLY LA, billyla.com. 
Grooming: Hee Soo Kwon