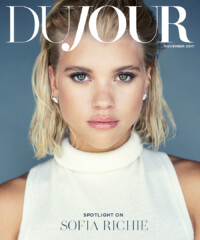 Early on the Saturday morning following a lavish gala marking Bulgari's new 5th Avenue outpost, Sofia Richie, who less than twelve hours before was swathed in high-octane diamonds, is rearing to go at a downtown Manhattan photo shoot. Outfitted in a black lace trimmed silk camisole, high-waisted jeans and black lace up boots with a Gucci silk rounding out the look, Richie is hardly the worse for wear after her late night but a shortage of down time is nothing new to the on the rise model. "Everything's moving really quickly," she says, describing both her life and career.
Days before she was traveling through Italy promoting her campaign with Adidas line Iniki and a month earlier she walked in Jeremy Scott's 20th anniversary fashion show. In the past year, she's appeared in European shows for Chanel and Dolce & Gabbana, on the cover of Complex and in Tommy Hilfiger's denim campaign. At the same time, contemporaries of the 19-year-old, who was raised in Beverly Hills estate by music legend father Lionel Richie and fashion designer mother Diane Alexander, are just settling into their dorm rooms. "The kids that I grew up with in elementary school they all just went off to college this year," she says with a smile. "They literally look at me like I'm an alien, they're like, you are so weird and so not normal. Where did you go left and we went straight? I have no idea."
More appreciative of her lifestyle are her 2.9 million Instagram followers. But while they live for paparazzi shots of her with her famous friends and family, Richie is much more focused on bulking up her CV. Designing her own line is the ultimate goal, something she's readying herself for by collaborating with admired brands. "It's one thing to be like, oh, you can be the face of this but it's another to be like we want your opinion and we want you to do it," she says. "That's the only collaboration I like to do, is when I have control over it." Modeling has been an avenue to a design education, she explains. "My whole point in starting modeling was to be around the designers and kind of study off of them," she explains. "Then it picked up and it worked out! I've been taking notes along the way."
Richie's start came at age fifteen when she was recruited to pose for a Malibu beachwear brand called Mary Grace Swim, shortly after she had appeared in a fashion feature in Teen Vogue and on sister Nicole's series Candidly Nicole. "I had long hair and never cut it, never did anything, I was so young. I shot it and I guess it got a lot of attention. I was a little, skinny thirteen-year-old and that's where it all kind of started." Within years, after a segway accident derailed her athletic career, she was walking in Kanye West's Yeezy show.
Whatever direction her career may take, Richie knows who she will end up consulting with. "My dad, he thinks so out of the box. He's so weird and he can take my mind places that I probably wouldn't go to and he opens me up to so many different thoughts. He's my creative go to," she says. Whether she will ever enter the family business, though, remains to be seen. (She has had professional vocal lessons and spent time in the studio with Joel Madden, her brother-in-law.) "Music has always been a big part of my life. Right now I would say no just because I'm so focused and determined on my fashion but I'm not saying I'm shutting that down forever," she offers. "It's always circling and cycling around me and I don't know what could happen in the future."
It remains to be seen just which directions Richie will move in in the next years but nothing pleases her more than putting in the hours to find out. "I'm kind of a crazy worker," she admits. "When I'm working a lot it makes me happy." 
On Richie: Sleeveless Knit Top, THEORY
Hair by: Robert Mefford
Makeup by: Aidan Keogh at Honey Artists using YSL Beauty