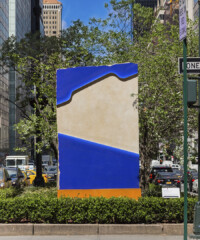 Summertime in New York City can be brutally hot and overwhelmingly packed with bodies. But a five-painting series by Spanish artist Lluís Lleó along the Park Avenue Malls between 52nd and 56th Streets offers a bit of solace. The paintings, displayed on huge Catalonian sandstone slabs, depict a calming juxtaposition between delicacy and physicality. 
"These stones are on the one hand a refuge and on the other a protection of fragility, delicate and fleeting," explains Lleó. "They create a place where all our dreams can rest: the hope that the art of painting will not die; and the hope that the art that leaves my studio will be soaked in rainwater and let to dry in the sun, to have the spring breeze blow gently on it." 
Titled Morpho's Nest in the Cadmium House, the work references the morpho butterfly, a fragile species found in Mexico and Central and South America. The Catalonian sandstone used by Lleó was inspired by his childhood visits to Romanesque churches in Spain and the south of France.
"The Cadmium House is that pure place one dreams to find in life. That place where memories lie and we can pay tribute to the art before us, that safe place called history where so many things are unchangeable," Lleó says.
Although this idealistic vision may be lost on some New Yorkers, Lleó's paintings will be quietly offering a sense of purity in the bustle of Manhattan all summer. 
Click through the gallery to get a better feel for Morpho's Nest in the Cadmium House.
The 13-foot, 7,000-pound paintings are a part of NYC Parks' Art in the Parks program and are presented in conjunction with the Sculpture Committee of The Fund for Park Avenue.