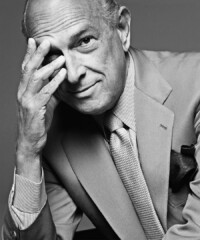 Michelle Obama's covered Vogue twice, but the first FLOTUS to grace the glossy's cover was Hillary Clinton in December 1998. In her interview she praised Oscar de la Renta—one designer Mrs. Obama has never worn—as "the ultimate statesman of American fashion."
Today, Senator Clinton is honoring the designer during a private grand opening of Oscar de la Renta: American Icon at the William J. Clinton Presidential Center in Little Rock, Arkansas. The exclusively-curated exhibit examines the work of de la Renta throughout his five-decade career and features 30 of his most iconic designs, including gowns worn by Jessica Chastain, Anne Hathaway, Sarah Jessica Parker, Laura Bush, Nancy Reagan and Chelsea Clinton, who will join in welcoming de la Renta and Vogue's editor-in-chief Anna Wintour to the opening.
Wintour and the Clinton family appear among other friends of de la Renta in a series of video interviews for the exhibit premiering at today's reception. Though we imagine DVF, Barbara Walters and others featured in the film can only reiterate what Mrs. Clinton so aptly remarked in her Voque interview years ago: "His name alone evokes shimmering elegance and timeless beauty that has helped define global style for generations. He is a true American original."
"Oscar de la Renta: American Icon" is on view until December 1, 2013. Click through the gallery to see a highlighted selection of de la Renta's work.