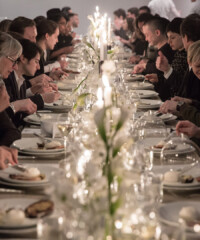 Last night, the New Museum raised a glass to its new partnership with Ruinart champagne at a candlelit dinner in the museum's penthouse space. With a theme of "Forever First," the intimate evening marked the first in a series of dinners that will toast star pupils of New Inc., New Museum's creativity lab and the first museum-led incubator of emerging leaders in tech, design and art.
True to the New Museum's raison d'être to excavate undiscovered and emerging talent, New Inc. provides a light source for experimentation across a range of disciplines (current members include everyone from landscape artist Lily Kwong to DIS magazine). With several floors' worth of boundary-pushing art beneath her feet (the 2018 Triennial is currently on view), New Museum director Lisa Phillips acknowledged that, even given the museum's history of experimentation, launching the first museum-led incubator was uncharted territory back in 2014. "It was an experiment. We didn't know how it would work out but it's led to quite a rich, interdisciplinary community of creative entrepreneurs," Phillips said.
But the incubator's seal of approval has proven to be worth its weight in champagne. In addition to commemorating the Ruinart partnership, the dinner served to highlight two high-achieving New Inc. members: filmmaker Eliza McNitt and visual and performance artist Nikolas Bentel.
Just before the main course (herb-roasted lamb paired with Ruinart Rose), McNitt offered fellow dinner guests like entrepreneur Alexandra Chemla and collector Michael Xufu Huang a sneak peek at her short Spheres. The film, which set a record at Sundance as the first VR project to score a seven-figure deal, was inspired by the recent groundbreaking detection of gravitational waves created by black holes. "Looking inside a black hole has never really been done before, so we had to visualize the invisible," said McNitt of the film, which is narrated by Jessica Chastain and executive produced by Darren Aronofsky.
Like McNitt, Bentel's art has made headlines for fetching figures. His recent conceptual work, The Erased Rauschenberg, centered on acquiring a $10,000 piece by artist Robert Rauschenberg, then destroying it by selling off the piece as ad space (a radical homage to Rauschenberg's famed Erased de Kooning Drawing). While the logo-covered Rauschenberg may be a comment on the commercialization of art, the piece will also serve a greater good, as Bentel revealed last night. "As of last week, the entire art piece was sold," he announced. "So starting today we are officially auctioning [it] off the [with a] starting price of $20,000, double the price of the original work." Proceeds from the modified Rauschenberg, Bentel explained, will cover fees for two to three New Inc. members. To bid on the modified Rauschenberg—and support New Inc.—click here.
Main image: Artist Nikolas Bentel and collector Hojae Kim (photo: Kelly Taub/BFA)