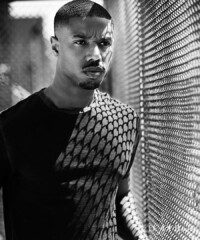 Last night, at the corner of West Broadway and Canal Street in New York City, Michael B. Jordan narrowly avoided a collision… with himself. He was headed into a nightclub with some old friends, when suddenly there he was—muscles bulging, chest puffed out just so—plastered to the side of a bus shelter.
Twelve hours later, the 28-year-old actor is still processing the moment. "It was me, right there on a bus stop!" he exclaims, in between bites of scrambled eggs and bacon at a hotel restaurant on the Lower East Side. "It was the coolest shit ever. It was like wow… that's pretty fucking cool."
Life is, without a doubt, pretty fucking cool for Michael B. Jordan right now. In addition to the career-defining portrayal of Johnny Storm in this month's big-budget superhero flick Fantastic Four, opposite Kate Mara and Miles Teller, Jordan recently landed the leading role in Just Mercy, a film that follows an ambitious young lawyer on his mission to fix the country's criminal justice system. Come November, he'll star as Sylvester Stallone's protégé in the Rocky spin-off Creed. During filming, he says, he'd look over his shoulder in the boxing ring and see Sly sitting in his corner.
Those kind of surreal moments are becoming Jordan's new normal—and that's exactly how he planned it. For the past decade, Jordan has been plotting his career like a game of chess, strategically choosing to play characters that people would think about for years to come, first on TV shows like The Wire and Friday Night Lights, and later in films like Fruitvale Station and Chronicle. "In theory, I was always supposed to get to this place," says Jordan, with the intense gaze he's become known for on-screen. "But it's kind of crazy when the plan comes together." Then again, failure wasn't really an option: One of his first roles, at age 12, found him opposite Bill Cosby, which he remembers as both intimidating and motivating. "He commanded that set; that was his show," Jordan says. "He demanded a professionalism from everyone." In one instance, Jordan recalls, Cosby helped him learn to embody his character. "He gave me a tick," Jordan says. "[He said], 'You care about your hair. You love your hair. You brush your hair nonstop all day. That's what you do.' And I was like 'alright, got it.' So I brushed my hair. And you're shooting this thing for hours. Imagine brushing your hair until your scalp is raw." But it taught him about dedication, and about how far he'd go to deliver a memorable performance, no matter how small the part.
Since then, he's starred as a struggling addict on Parenthood, and spent three years playing a troubled teen on All My Children. The serious nature of his roles has fans convinced that Jordan is the same earnest, wholesome guy off-camera. He says this is only partly true. "It's so weird, people think they know me based on my character, and I've played some pretty good guys," he says. "I think I'm a good guy, but I have my moments—I'm not a saint at all." It's only partly believable, too. After all, Jordan says he generally spends his downtime collecting graphic novels and obsessing over Japanese anime. (He's developing several animated films of his own.)
But while he might be a closeted nerd, he's also become a Hollywood heartthrob. "I don't know…" he says, fidgeting awkwardly with his napkin at the implication. He smiles, flashing a mouthful of glistening white teeth, and suggests that maybe women find him attractive because he's "put on a little muscle" lately. He spent nearly a year perfecting the shredded physique required for his role as a professional boxer in Creed, and though he admits his rigid workout routine has slowed since then, he's recently been trying to get back into "movie shape." Today, however, he is powerless in the face of pancakes. "If my trainer saw this, he'd lose his shit for sure," says Jordan, as he unwraps a third pat of butter and spreads it evenly across the warm dough, his sculpted biceps flexing beneath his fitted black t-shirt with each movement of the knife.
If ever there were a time to celebrate—over buttered pancakes or otherwise—now would be it: He is, as of two days ago, a first-time homeowner. "There's going to be a few 'do it yourself' projects for sure," he says. "I can already see the headlines: Michael B. Jordan Loses Finger and Arm While Installing Cabinets!" From the moment he walked in the door of the West Hollywood home, he says, he could picture his entire family gathered there. With that, he was sold.
He considers himself fairly traditional when it comes to courtship—he's not a fan of dating apps and cites his parents as his relationship role models. They have what Jordan calls a "rare, old-school love" and recently celebrated 30 years of marriage. "Sometimes, you think you're gonna be young forever. You get stuck in that fun phase," Jordan says. "My family environment growing up is very much what I want eventually. It gives me hope and a longing for something more than the surface kind of relationships that you have so much. I always use them as a gauge. They were 28 or 29 when they got married. So I have a year… But unless something dramatic goes down, I don't see that happening."
Jordan takes a final bite of the half-eaten pancake and pushes it aside. He can't indulge too much; in an hour, he's meeting his trainer at the hotel gym for a quick workout before the onslaught of appearances for Fantastic Four. Though this is a life Jordan has very much created for himself—blockbuster films, interviews, press junkets—he admits it seems like just yesterday his mom was chauffeuring him to auditions all over Manhattan. "I would have to pee in a Gatorade bottle in the back of the car while we sat in traffic in the Holland Tunnel. Then my mom would double-park while I ran in to an audition. I don't even know how many times our car got towed," says Jordan, who grew up in Newark, New Jersey. "But it wasn't too much too fast. I think that's how I kept my sanity."
These days, even as he's bumping into himself on billboards and boxing with Stallone, Jordan tries to stay levelheaded, though he admits that's becoming more difficult—just not in the ways one might expect. "People say you change when you get successful. But that's not really how it works. I think when you start getting successful, people assume that you're going to be different, so they change," Jordan explains. "So you're in this weird place where you're trying to convince someone that knows you that you're still the same. It's like, why do I have to do that?"