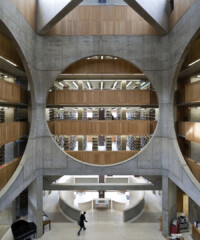 American architect Louis I. Kahn (1901 – 1974) is celebrated as one of the greatest builders of the 20th century. Kahn is credited with creating works such as the Salk Institute in La Jolla, California (1959 – 65), the National Assembly Building in Dhaka, Bangladesh (1962 – 83) and the Kimbell Art Museum in Fort Worth, Texas (1966 – 72).  His masterful use of spatial composition and light makes his buildings' beauty unparalleled.
The Louis Kahn: The Power of Architecture exhibit will be open to the public form March 26 – June 25, 2017 at the Kimbell Art Museum in the Louis Kahn Building. This in-depth exhibition is the first major retrospective of Kahn's work in two decades and will allow visitors to discover Kahn as an architect and more. 
"The Kimbell's Kahn-designed building is acknowledge the world over as an architectural masterpiece," commented Eric M. Lee, director of the Kimbell Art Museum. "Visitors who come to this exhibition will get know Kahn, the architect, and follow him on the thrilling journey that led to the vision for the Kimbell Art Museum."
From original drawings and architectural models to photographs and films, the exhibition will feature a range of documentation from all of Kahn's most significant projects. Some of the highlights of the exhibit are a twelve-foot-high model of the City Tower designed for Philadelphia (1952 – 57) and several interviews with various architects such as Frank Gehry, Renzo Piano and Sou Fujimoto.
Click on the gallery to see a selection of what the exhibition will encompass. 
Louis Kahn: The Power of Architecture is organized by Vitra Design Museum, Germany in collaboration with Architectural Archives of The University of Pennsylvania and the Netherlands Architecture Institute, part of the New Institute, Rotterdam.
Louis Kahn: The Power of Architecture will be on display at the Kimbell Art Museum from March 26 – June 25, 2017