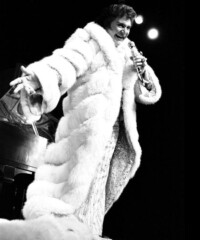 There are a few stars who are associated with just one name. Madonna, is one. Cher, another. And there's only one Beyoncé, of course. Like these divas, Wladziu Valentino Liberace was mononymous… but only he wore more glitter (and sequins, fur, diamonds) than any of the previously mentioned stars.
Liberace's fantastic "works of art," which is how the entertainer referred to his outfits, are celebrated in a new book: Liberace Extravaganza! (Harper Collins) by Connie Furr Soloman and Jan Jewett, which documents the stylistic highlights from his four decades of stardom through clothing. With close-up images of his gem stone-embedded suits, sequin-studded capes and feather-covered jackets, it's Liberace like you have never seen him before. This unprecedented (and very detailed) look at his wardrobe reveals just how intricate each costume was—some of his jackets and vests are even covered with mini lightbulbs, the seams lined with electricity—as well as how he evolved from a Wisconsin-native during the Great Depression to an iconic character in 20th-century culture, "Mr. Showmanship."
Mirroring the featured clothes, Liberace Extravaganza! is opulent: the metallic silver book is ornate, shiny and features his ecstatic smile on the pages. You will yearn to hear Liberace himself announce, "Well, look me over! I did wear it to be noticed," every time you flip through the bright pages… or at least feel inspired to play one of his songs.
Take a look in the DuJour gallery to see some of our favorite Liberace looks, like the white ostrich cape from 1977 and a red, white and blue electric suit from 1970.