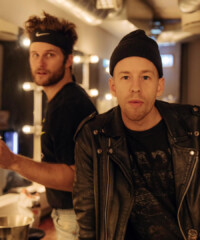 The ambient band LANY had just returned from a wet weekend at Hangout Festival on the Gulf Shores of Alabama, where I caught up with lead singer Paul Klein. Their afternoon set began with a few moments of torrential downpour, but when Klein belted out the chorus of their dreamy hit "ILYSB," the crowd totally forgot about the water damage their phones just suffered.
LANY (pronounced lay-nee) was formed in 2014—on April 22, 2014 to be exact. "I had been doing the singer-songwriter thing by myself in Los Angeles for a little bit and I was kind of rethinking if I wanted to keep going," Klein says of the band's formation. "I called Jake [Goss] and Les [Priest], who were in Nashville at the time, and we decided to see what we could do together."
After three days together, the three guys wrote their first two songs, "Hot Lights" and "Walk Away." LANY was born. Klein says the day they uploaded those songs to the Internet was the day everything changed. "We had zero followers across all of our social media platforms. Within six days we had emails from record labels and it's been non-stop since then." Klein admits that he initially thought the emails were spam. "I've put out music before and nobody cared. We brought in our buddy Rupert who immediately became our manager and still is today. He helped us sign with Polydor Records," he says.
Since that fateful April 22, LANY has opened for acts such as Halsey, X Ambassadors and most recently, John Mayer. "We played seven shows with our hero in arenas. He's been my everything for my whole life so it was pretty insane," Klein says of supporting Mayer on tour.
The band has a very distinct sound that can only be described as "LANY." When I challenge Klein to describe it, he tells me they're an indie-pop band in the sense that the songs all have a melody, chorus and a typically pop song structure. "We're indie in that we don't totally sound like pop radio. You can tell the band wrote and recorded the songs. We haven't been produced by a mainstream pop producer," Klein adds. 
On the band's debut album, due out June 30, you can expect LANY to remain true to themselves. "We're lucky. We have our own sound and we're able to stick to it. With our album coming out, it's not time for us to experiment too much. We know who we are and what we do," Klein says.
The band will be playing Forecastle Festival in Kentucky, Bumbershoot in Washington and Kaaboo Festival in California later this year. Take a look through the gallery above for a peak at LANY on tour so far.