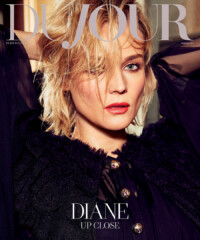 Seated on a sleek hotel suite sofa and ensconced in a plush robe, Diane Kruger seems an impossible distance away from the film role that earned her a Best Actress Award at Cannes and whispers of an Oscar nomination. But the brutally painful role remains within her. "It was like a wall and I still feel it," she admits.
The part was Katja Sekerci, a scrappy wife and mother whose life is upended when her husband and child, both of Turkish descent, are killed by a terrorist bomb, in director Fatih Akin's film In the Fade. It's Kruger's first major starring role. It's also her first time acting in a German production, which took the 41-year-old back to the country she left as a teenager. The first seeds of the project were sown in 2012 when Kruger approached Akin, the celebrated German director of The Edge of Heaven, at a Cannes Film Festival party, telling him she dreamed of working with him. "I've been waiting for a part from Germany," she explains. "I left a long time ago, 25 years, and I wasn't an actress when I left. I don't know anyone in the movie industry there."
In the time away from her home country, Kruger had studied ballet in London, become a model for brands like Chanel, Armani and Christian Dior, and acted in films like Troy, Inglorious Basterds and The Infiltrator as well as the acclaimed FX television series The Bridge. Despite the breadth of her experience, the role that Akin crafted was one that departed starkly from anything Kruger had worked on prior, or even seen on screen. "When I got the script I was like, how is he thinking about me? Obviously it's not really something I get offered all the time. I was really scared of the role and I was really scared of being home. I definitely had started feeling a little foreign in Germany," she says. Despite her hesitation, Kruger realized the significance of the part and was willing to go in deep to make it happen.
On Akin's insistence, Kruger relocated to Germany four months prior to filming and immersed herself in preparation. In the Fade follows Katja from the murder of her family by neo-Nazis, through a criminal trial and her overpowering desire for revenge in the months and years afterwards. The script is remarkably prescient, speaking not just to the violence of our time but also the horrifying waves of anti-immigrant sentiment wreaking havoc around the world.
"I've never met such a concentrated person in my whole set life," says director Akin. The moment she's on set, the moment she's acting, there's nothing else existing than the character and the work. She's very focused. She's acting with no fear. That was my prejudice; because she's a former model, I expected that she would be much more scared about the acting and I'd have to lead her more but that was not the case. She seemed to be not afraid about anything."
Readying herself for the part was a process that included speaking to mothers who had lost children, many to murder. "I met maybe 25 people, and that energy and what I heard and listened to and what I saw, it just shaped me and made me a different person. It's very difficult to explain because it's an energy," she says.
Working in Germany, with a German director and actors, made for an awakening for Kruger, who reconnected to parts of herself she'd been away from for so long. "It really brought me back to my roots, I have to say. There was an obviousness to the character, a cultural obviousness, that was just so ingrained within me and I had forgotten about," she says. "I felt in my place. I knew this person. I grew up with this person."
Kruger's experience filming was difficult, both on and off set. She calls 2016 "a really dark year." Her beloved grandmother passed away and later, while she was making In the Fade, Kruger's stepfather of 25 years also died. "I was dealing with playing grief all day long everyday and would come home and feel an immense grief and my mom being alone," she recalls. "I felt like I was drowning. I don't have great memories of making the movie because it was really dark, and you're in Hamburg and it's freezing and gray."
Those feelings have been hard to shake. In the Fade has garnered a very warm reception and was chosen by Germany as the country's official Oscar selection; the nature of the film, however,  makes it hard to celebrate the accolades. Attending the Cannes Film Festival, where Kruger was honored for the role, was a particularly conflicting experience. "I really felt like I paid. Something in me went with this movie on a personal level. I hadn't been able to work since, I couldn't get out of this part. I was dealing with family issues," she says of that time.
While Kruger was attending the festival, an attack at a Manchester Arena Ariana Grande concert left 23 people dead, many of them young girls. That the film related so fiercely to reality made her award a mixed blessing. "I was really overcome with emotion and then at the same time it felt so bizarre to be congratulated about that particular role," she says. "It felt like, Oh, my gosh, how do you speak about this movie, how do you promote this movie? It was very mixed emotions, really. Wonderful and amazing but definitely not just like, yes! For this kind of thing, I really felt the responsibility and I felt those mothers that lost their kids."
It seems a foregone conclusion that Kruger's savagely intense and painfully compelling performance will put her on the Hollywood radar in an increased way, though she is circumspect when asked about it. She realizes that her career, which has included both American and French films (she's a fluent speaker and lives much of the time in Paris), blockbusters and indies, has taken an unorthodox path. While she's avoided landing in a niche and been able to develop a full-bodied slate of diverse performances, she sometimes wonders if that has come at the expense of other, bigger opportunities. "It was always my dream to be able to work in different languages and in different cinemas, families of cinemas. I think sometimes that has worked to my advantage because people don't really know what I am, if I'm an American or if I'm European," she says. "Then sometimes I think it was to my disadvantage. I definitely wanted to make a French movie and turned down maybe an opportunity that I would have had here and vice versa."
Coming up in November, Kruger will appear the film Tout nous sépare, alongside Catherine Deneuve. She's also been cast in the biopic of John Kennedy Toole, author of A Confederacy of Dunces, called a Butterfly in the Typewriter and in JT Leroy, a narrative account of the notorious literary hoax, as well as in director Robert Zemeckis's upcoming fantasy The Women of Marwen. Kruger has also recently optioned the book Hedy's Folly by Richard Rhodes, which looks at the screen star Hedy Lamarr's secondary career as an inventor, creating radio technology that later became the basis for Wi-Fi and Bluetooth, and will produce a miniseries based on it. She hopes that the smash success of Hidden Figures is alerting the powers that be of the appetite for stories about women working in science. "I consider myself fairly intelligent, functioning; I can get from A to B. I read and I'm interested in what happens in the world, but I'm not book smart. I didn't go to university. I didn't study anything that could change the world," she says of her intense enthusiasm for the story. "I love that she was someone who thought outside the box and was given an opportunity to just make things, imagine things. I want girls to be encouraged to do that. You don't have to go to Harvard."
Ivy League or not, Kruger in person is strikingly bright, thoughtful and warm. While her personal life has been the source of much coverage—the 2016 end of 10-year partnership with the actor Joshua Jackson and her new relationship with Walking Dead star Norman Reedus both making headlines—she convincingly describes herself as a homebody who's most interested in hosting dinners with close friends like the designer Jason Wu or watching episodes of the comedy series Eastbound & Down. Another companion is her cat Hobbes, a gray and white beauty that's posed with her in the pages of fashion magazines, who she says is at once sweet and a source irritation. "I've become this actress that travels with a frigging cat!" she declares with exasperation. "I was shooting in Vancouver and I was like, Nope, I have to bring the cat. I'm there for weeks. So I'm the girl with, like, the cat out of the carrier going through security. Everybody's like, Ugh, and I'm like, Oh, God, I'm that actress."
Like many of those whom the public rabidly seeks out private tidbits, Kruger has to balance what to reveal and what to hold close. To that end, Instagram has become a much appreciated outlet. "I love sharing certain aspects of my life. I'm a very visual person so it's not just selfies, it's stuff I like or stuff I find funny. It seems to me that for the first time, I have really great contact with people who like my work or just like me," she says. Her posts aren't always generating praise, but she welcomes the dissenters, as well.  "Sometimes I post stuff and shit storms happen but it doesn't matter. That's what I stand for." That online candor has helped reveal a new image of Kruger, showing that while she might be beautiful and impeccably styled, she's far from a hothouse flower: quick with four-letter words, sharp jokes and grunge-music recommendations.
While her half a million–plus followers are well-acquainted with Kruger's keen sense of humor, it's a quality that has rarely been explored in her film roles. She had a unique opportunity to show it off this summer when Funny or Die recruited her to play Kellyanne Conway in a video for the site. "At first I was kind of offended like, What, do I look like her? And then I was like, No, absolutely you have to do it," she recalls. The finished product, a two-and-a-half-minute trailer for a fictitious Lifetime movie where Kruger portrays the Trump hired gun guzzling wine, spinning his Access Hollywood tape and choking Mike Pence while threatening him to "get onboard or you go home to your fucking farm cow Indiana." Kruger loved the experience and is eager to do more, recruiting me to get out the message that she's in the comedy game. "I'd love to do more comedy. I'd love that. Throw it out there, I'm counting on you."
It's likely that Kruger will soon have her pick of projects. In the Fade is the kind of project that, depending on its roll-out and reception, has the potential to transform an actor's reputation and life. Still weeks away from its release, she's focused much less on the fanfare than on the connection it sparks within those who are grieving. The constant barrage of deadly incidents happening around the world reminds her that countless Katjas are being created every day. "I really hope that on a human level people can connect. I can only speak for myself, but sometimes you look at what is happening, all the terrible things that happen on TV, with people being reduced to numbers; then you move on to the next," she says. "I think we forget sometimes what it really creates on an everyday level; what injustice and those kinds of things do to people."