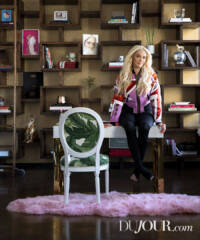 When Virginia Woolf proposed in A Room of One's Own that women need their own domains in order to create, she might not have imagined that one day Real Housewives of Beverly Hills star Erika Girardi would carry on this feminist tenet in Barbie-pink high relief. In addition to sharing a 17,000-square-foot Pasadena mansion with her power-lawyer husband, Girardi maintains a lush Hollywood studio decked with chandeliers, pink fur and neon signs. It's here that Girardi nurtures her alter ego, dance-pop doyenne Erika Jayne, known for lyrics such as: "It's expensive to be me / looking this good don't come for free"—nothing if not a modern-day echo of Woolf's assertion that "a woman must have money and a room of her own if she is to write."
Granted, Girardi isn't exactly chained to a writing desk (although she is co-authoring a memoir, Pretty Mess, with Vulture columnist Brian Moylan, out March 20). "We have music meetings here. We have fittings [here]," she says of the need for her pied-à-terre. "And then, all the glam. I come here to get ready for work." Indeed, Girardi's glam squad has acquired near mythic status; she retains a full-time creative director Mikey Minden and spends a reported $40,000 a month on hair, makeup and accessories.
But through the glamour, the 46-year-old's devil-may-care diva attitude shines—it's an empowered irreverence that's also reflected in her clubhouse's playful aesthetics. "[The décor] is pop culture: Biggie Smalls, Mark Ryden and Lowbrow Art," says Girardi.
While the "Pretty Mess" brand blends high and low, there's nothing "messy" about the clubhouse space. Overlooking Capitol Records and the Hollywood sign, the interiors evoke an old Hollywood Shangri-la, with flamingo wallpaper, Beverly Hills Hotel–style banana leaf accents and a sweeping vanity mirror. And while creating it may have been a high-budget production, for Girardi, it's now a no-stress zone.  "This is my play space—my pop-culture play-space," she says. "You can do no wrong here."