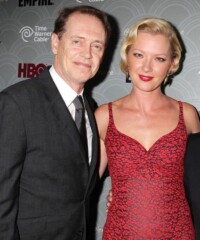 This week's red carpet premiere of the hit HBO series Boardwalk Empire was a family reunion of sorts. Members of the cast and crew including Steve Buscemi and creator Terence Winter gathered at the Ziegfeld Theatre on Tuesday night for the fourth season premiere and were joined by fellow actors from the cable channel's other popular series The Sopranos, Flight of the Concords and Curb Your Enthusiasm.
Martin Scorsese also took part in the celebration (he's an executive producer on the show and directed this season's opening episode) that included new additions to the Atlantic City-set series like Patricia Arquette, Jeffrey Wright and Ron Livingston. "There are some really exciting new characters [this season], great action sequences and incredible dance numbers," revealed Winter. "We're very excited to get it on the air."
The new season premieres this Sunday at 9pm on HBO. Click through the gallery to see the faces from the red carpet.
MORE:
Mad Men's Set Secrets
Mark Strong on Low Winter Sun
Live Schreiber on Ray Donovan