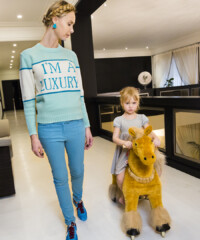 For 25 years, photographer and filmmaker Lauren Greenfield has pointed her lens at the lives of the wealthy, capturing stories of not only affluence, but of unrealistic beauty standards, corruption, fantasy, and excess. Earlier this year, Greenfield published the culmination of that work – a 500-page photographic opus called Generation Wealth. Now, an exhibit of the same name will bring hundreds of Greenfield's images, first-person interviews and hours of film footage to New York's International Center of Photography Museum (ICP), where it will run until January 7th.
"ICP recognized early on that Lauren Greenfeld has important stories to tell," says Executive Director Mark Lubell. "We're thrilled to be able to provide a platform for a project that speaks volumes about the pervasiveness of consumer culture on a global scale, and the shift from 'keeping up with the Joneses' to 'keeping up with the Kardashians.'"
The exhibit is organized into eight sections with titles such as "The Princess Brand" and "I Shop Therefore I Am." Among them is an installation dedicated to Greenfield's award-winning 2012 documentary, The Queen of Versailles, which follows the lives of a Florida family that builds a 90,000-square-foot mansion just in time for the 2008 economic crisis. Other themes include the modern day gold rushes of the emerging Chinese and Russian elites, and the commercially packaged hedonism of Las Vegas.
Greenfield's unflinching exploration of the shift in America's values began in 1997, the year she had her first museum exhibition at the ICP. "The journey began with the Fast Forward photographs of L.A. kids in the 90's, so it's very exciting to return to the ICP with this thematic retrospective from the last 25 years," Greenfield says, referring to a series that revealed the entertainment industry's impact on young people's values in Los Angeles.
In Generation Wealth, Greenfield expands her original project into something far greater. In addition to hearing stories from American families desperately struggling to maintain a certain status, she visited homes in Monaco, Russia and China, discovering that these pressures exist far beyond America. In shedding light on the widespread desire to be or simply appear wealthy, Greenfield exposes the truth behind materialism, no matter the cost.
Generation Wealth will be on display until January 7, 2018 at ICP.
The International Center of Photography Museum
250 Bowery, New York, New York 10012