An expert tailor, Domenico Vacca has designed clothing for Entourage and Empire, but the designer's most recent venture goes above and beyond creating clothing. At the designer's brand new NYC flagship store The Domenico Vacca, two out of ten stories are dedicated to retail space offering ready-to-wear, accessories, shoes and more complete with a VIP area for special orders and custom made items. The remaining floors of the Fifth Avenue outpost are home to a café, barbershop, hair salon and exclusive members-only club.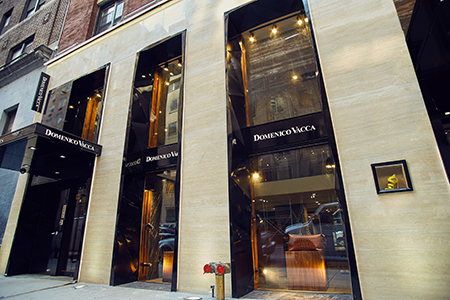 "I wanted a social club where the staff knows not only every member by name, but their choices in drinks, food and their social habits so they can anticipate their every need," said Vacca in a release. "I want the DV Club to be a place where members and their guests will feel like they are coming to visit me at my home, where my clients and friends can relax, network and meet other members and their guests, all selected for their achievements in life and business." If that wasn't over the top enough, the top floors of the space will also feature 30 fully furnished long-term stay residences decorated by Vacca.
The Domenico Vacca is located at 15 West 55th Street.