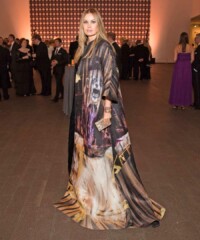 San Francisco was practically salivating over the "Italian ice" being served up September 18 for the opening of The Art of Bulgari: La Dolce Vita & Beyond, 1950 – 1990, at the de Young Museum. The well-heeled (and much-bejeweled) turned out to fête the 128-year-old jewelry house with its first U.S. retrospective.
The exhibition included several pieces on loan from actress Jennifer Tilly, who began collecting in the early '90s, as well as iconic pieces once owned by Elizabeth Taylor and exquisite examples belonging to San Francisco's grande dame, Denise Hale, and the Fine Arts Museums of San Francisco president of the board of trustees, Dede Wilsey.
While mingling during the cocktail hour, guests had the opportunity to peruse the exhibition—and each other. Locals were entranced with the gorgeous collectors from L.A. who jetted up for the affair, including Susan Casden, Larissa Sabadash and Jacqui Getty. Actress Kate Bosworth stunned in a form-fitting McCartney but was soon overshadowed by the late arrival of Hilary Swank (also in a figure-hugging dress by Azzedine Alaïa). But neither star could outshine San Francisco's own style icon, Tatiana Sorokko, who floated into the party wearing a voluminous couture opera coat by Ralph Rucci, hand-painted and silkscreened with Francis Bacon's 1953 masterpiece often referred to as the "screaming Pope," her writs and ears, naturally, adorned with Bulgari.
Click through the gallery to see photos from the opening night.
"The Art of Bulgari: La Dolce Vita & Beyond, 1950 – 1990" is on display through February 17, 2014.