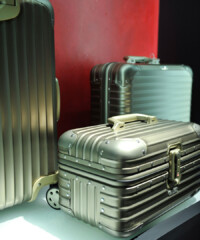 Jeremy Piven, Alessandra Ambrósio and Jared Leto descended upon the Rimowa flagship boutique in Midtown Manhattan on October 28 for the shop's grand opening.
The stars browsed the brand's signature aluminum cases and mingled with CEO Dieter Morszeck while celebrating the unveiling of a special collaboration by curator, tastemaker and art world fixture Neville Wakefield.
Wakefield has created a special edition set for the Topas series of luggage with a mirror finish and matte black hardware (only 40 sets are available for purchase). "I've always been a fan of Rimowa," says Wakefield. "I knew from the outset that I didn't want to create something that was merely decorative. One of the things that I like most about the Rimowa cases is that, with use, they start to bear the history, scars, dings and other records of travel. To me these war wounds are badges of honor that turn every case into a ready-made canvas."
The scene inside the store included the artist Aaron Young and his wife, The Webster owner Laure Hédiard Debreuil, who caught up with other tastemakers like Shala Monroque over mini quesadillas and pieces of cake in the shape of the brand's corrugated, grooved luggage.