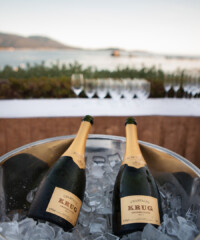 The Michelin stars aligned this past weekend at the 8th Annual Pebble Beach Food & Wine festival, where gluttons gathered for the ultimate culinary experience. Restaurateur, CEO and co-founder David Bernahl assembled one of the most spectacular lineups in the event's history.
Throughout the course of the weekend over 100 celebrity chefs, fine food purveyors and close to 200 wineries plated and poured to the delight of the masses. Each day was chock-full of cooking demonstrations and seminars, wine and beverage tastings and lectures, as well as sold-out multi-course dinners. In addition to the more exclusive events, the Lexus Grand Tasting tent, open both Saturday and Sunday, offered an all-access pass to the best and the brightest talents in the fields of food and wine.
Here, explore a few highlights from the culinary adventure.
The Magic of Château Margaux
Held at The Inn at Spanish Bay, this was an experience that doesn't come along very often. As one of the world's most revered names in wine, Château Margaux is one of the four original First-Growth Bordeaux designated in the classification of 1855 and has continuously been producing wines from the 16th century. Aurélien Valance, the estate's senior director, led a retrospective tasting of library wines that came directly from the estate's private cellar. "The way [Château Margaux wines] behave is very concentrated and dense, with a lot of elegance and a very long finish," he explained. Beginning with the single white, the 2011 Pavillion Blanc du Château Margaux, the tasting moved back through time with some of most revered reds. The 2010 Pavillion Rouge du Château Margaux—heralded as the best Pavillion Rouge to date—led into the infamous Château Margaux vintages themselves, from 2010 and 2009 to 2004 and 2003, back to 1995, 1989 and finally 1986. "What is most special, though, about Château Margaux," Valance says, "is the spirit."
Family Style: An Ultimate Pairing of Comfort Food & Cabernets
The event, hosted by Michael Trujillo, president and director of winemaking at Sequoia Grove, along with "wine wise guy" and expert Anthony Giglio, showcased a litany of dishes prepared by a handful of great chefs, including Richard Reddington of REDD in Yountville, Neal Fraser of Redbird in Los Angeles, Alex Guarnaschelli of Butter Restaurant in New York and Angela Tamura of Pèppoli in Pebble Beach. Each plate was paired with a spectacular vintage from Sequoia Grove.
An Evening with Chef Curtis Stone
This was an asparagus lover's delight. Focusing on the seasonal ingredient, he incorporated the slim green vegetable into every dish on the menu. Pairings of wines from G.H. Mumm, Penfolds, Domaine Laroche and Dolce complemented the food to perfection. Stone shut down his intimate (20-seat) Los Angeles restaurant, Maude, for the weekend in order to bring the award-winning experience to Pebble Beach.
Michelin 101: Stars of the Valley
This event brought together a constellation of one-starred Michelin chefs whose famed restaurants dot the 101 Freeway. Peter Armellino (The Plumed Hors), Dmitry Elperin (The Village Pub), Jarad Gallagher (Chez TJ), Peter Rudolph (Madera Restaurant) and William Werner (Craftsmen and Wolves) served up a diverse menu, including Roasted Line-Caught Halibut in Oxtail Consommé, Roast Partrige with Morels, Huckleberries and Smoked Turnips and Roast Broken Arrow Ranch Antelope with Stinging Nettles, Semolina Gnocchi, Pickled & Roasted Spring Garlic. Werner's Blonde Chocolate Ricotta Tart was the final nail in the coffin for a sweet, sweet ending. Wines from Domaine M&S Ogier (the most sumptuous 2007 Côte-Rôtie), Champagne Henriot (to-die-for vintage 2005), Mayacamas (1998 genius Cabernet Savignon) and Domaine Faiveley (2007 "Clos de Beze") paired perfectly.
The Lexus Grand Tasting
This took place over the course of both Saturday and Sunday afternoons and was by far the most accessible and well attended of the festival. Held in a massive two-room tent on the grounds of the Pebble Beach Equestrian Center, wide-eyed guests navigated through 2,000 wine booths and over 30 chef stations on each day. Booths and demonstrations by Masaharu Morimoto, Curtis Stone, Fabio Viviani, Lara Werlin, Roy Yamaguchi, Richard Reddington, Antonia Lofaso and Kevin Gillespie helped keep folks satiated. Standout wines including those from Scribe Winery, Duckhorn, G.H. Mumm, Sequoia Grove, Heitz Wine Cellars, Kistler Vineyards, Champagne Tattinger, Cliff Lede and Penfolds Wines. If wine wasn't your thing, lounges provided by Driscoll's Berries and festival sponsor Classic Party Rentals (who housed a booth by Morro Bay Oysters) were a welcome respite from the crowds.