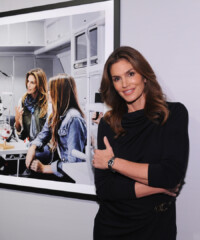 Guests gathered at the New York Historical Society for a private screening event of the documentary The Hospital in the Sky hosted by Swiss watchmaker OMEGA and Orbis International. The film focuses on the non-profit's Flying Eye Hospital and stars Cindy Crawford and her daughter, Kaia Jordan Gerber, as they partner with eye care experts to remedy global eye health and treat blindness.  
The stunning model—and long-time brand ambassador for OMEGA—described the experience as one of the most meaningful trips she's ever taken. A portion of the proceeds from the sale of OMEGA's four special watches—designed to celebrate its partnership with Orbis International—will be donated to help the fight against preventable blindness.
Scroll through the pictures in the gallery above to take a peek inside the exclusive reception.