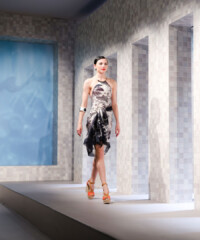 The evening was a downtown affair. 700 guests gathered at an office building formerly owned by J.P. Morgan and Co. on Wall street to celebrate "All About Women," the vision of Hermès Women's Universe Artistic Director Bali Barret. This is the third time the brand has put on this event (along with International CEO Alex Dumas and US President and CEO Robert Chavez)—the first was held in Shanghai in 2012 and the second in Paris the very next year. A large origami sculpture bathed in a geometric Hermès scarf print stood prominently outside the entrance, greeting guests as they entered through mirrored arches that lead to a faceted tunnel, inviting them to transcend upon a grand staircase. Here, several hundred attendees gathered as the autumn/winter ready-to-wear collection, Defile, was presented for the first time in the US.
After the runway show, guests returned to the first floor and were confronted with a magical metamorphosis of the space, which offered a series of interactive and digital experiences: In Step, Horse Play, Bar de Jour, Dancing Bags, Bangle Bar, Silk Fortunes, The Art of The Scarf, Chain Reaction, Songs of Silk, So Little More and A Bigger Splash. In the pool room guests could watch a live synchronized dance performance choreographed by Andrea Miller of the Gallim Dance Company.
Miller was also responsible for choreographing Dancing Bags, a dynamic performance of eight city girls featuring handbags from the autumn/winter 2014 collection. In the Bangle Bar, waitresses served Click-Clack champagne wearing stacks of enamel bangles on each arm. Housed in an elaborate silk-tiled room, the Silk Fortunes experience featured a fortune teller conjuring scenes from the future.
Nostalgic and romantic lyrics could be heard from Songs of Silk, performed by visual artist and actress Sabine Scuibba, the lead singer for the Grammy-nominated New York electronica band Brazilian Girls. Later in the evening, a parade of men—The Pom Pom Boys—staged a coup to encourage guests back to the second floor (now transformed into a lounge space) to dance to the sounds of DJ Clara 3000.
Click through the gallery above to see photos from the event.
MORE:
A Window to Hermès
Inside the Miami Hermès Boutique 
Hermès' Original VIP: The Horse