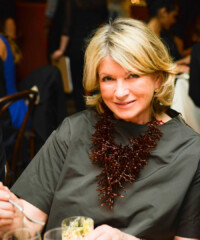 After successfully building NYC's first edible schoolyard at PS216 Brooklyn and recently breaking ground on a second location in Harlem, Edible Schoolyard NYC's executive director Kate Brashares had a lot to be proud of on April 7. Brashares, whose organization builds gardens and culinary classrooms in disadvantaged neighborhood schools, was joined by 32 of the world's top chefs for a celebratory dinner gala. Designed by Bronson Van Wyck, the expansive space at 23 Wall Street was transformed into an overgrown garden oasis as yellow and pink tulips lined tables and dark vines climbed the walls.
"We call tonight 'Putting Down Roots' because our goal is to expand and grow," Brashares tells DuJour. Founded by Berkeley chef and local farm advocate Alice Waters, Edible Schoolyard builds organic gardens and culinary kitchens in public schools, teaching pre-K through 5th graders a new seasonal recipe once a month. So far the response by the picky eaters at P.S. 216 has been positive. "Asparagus, kale, things you wouldn't expect them to like they love," says Brashares. "We also grow all these amazing herbs. They love lemon sorrel."
"I used to grow vegetables like lima beans as a kid with my grandmother and enjoyed the whole process," says, Momofuku's David Chang and the nonprofit's culinary chair. "As a kid I didn't want to eat vegetables but interestingly enough as I got older, the memories made me really learn to appreciate them." For tonight's menu, the chef kept it simple. "We did a family style steak, nothing complicated with just good looking local vegetables."
"If we get kids involved at a really early age, feeding them vegetables wouldn't be such a hard thing to overcome," says Maialino chef Nick Anderer. The chef notes that it's important that kids aren't just looking at the same old boring crudité of celery sticks and carrots. The sold-out evening, attended by Martha Stewart and Aby Rosen, fed more than 400 guests and raised $1 million.
Click through the gallery above to see photos from the event.
MORE:
Below the Brim: The New Farm to Table
Healthy, Kid-Friendly Lunch Alternatives
Life Lessons from a World Renowned Chef