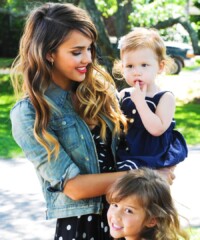 Amid horses and hay bales at Wolffer Estate Vineyard's stables in Sagaponack on Monday, Ralph Lauren held a fashion show for the city's smallest sartorialists. New York moms from Christie Brinkley to Edie Falco and their style-savvy children gathered to view the 63 preppy-chic looks Ralph Lauren Children will offer for fall.
Falco's five-year-old daughter, Macy, was particularly taken with an orange coat, but the highlight for her? "The candy, of course!" said Falco. After show snacks included nutella and banana sandwiches and a candy bar laden with treats from Dylan Lauren's Dylan's Candy Bar. Following their front-row experience, the girls gathered for nail art and manicures from Essie and a braid bar replete with multi colored ribbons and roses. To cap of the afternoon, 14-year-old singer Madison Beer (who was discovered by Justin Bieber) took the stage and performed, closing with her unreleased single, "Melodies."
Catching up with Jessica Alba, who had daughters Haven, 2, and Honor, 5, in tow, after the event, DuJour learned why she dresses her girls in Ralph Lauren. "I love the mix of colors and patterns," Alba explained, "and all the layering, and the tall socks and tomboyish feel to the clothes. It's all so cute!"
Click through the gallery to see photos from the show and looks from the new collection.