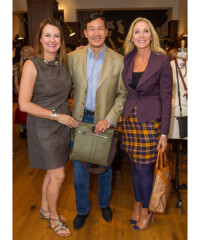 Ghurka, known for their exquisite handcrafted leather goods, hosted an afternoon tea to unveil their new women's collection—the first in a decade—at its Union Square outpost in San Francisco.
Co-hosted by The San Francisco Zoological Society's Rosemary Baker, Anne Pedrero, Tanya Peterson and Timothy Wu, Ghurka debuted an array of handbags, including several re-editions culled from the brand's archive—like the Tilbury, based on a vintage weekender bag. Perhaps the chicest new must-have is the new Standard tote, inspired by the "American paper bag."
The event also served as the official announcement of the name of the Zoo's new Red Panda: Hillary.  "The introduction of San Francisco's most beautiful new female resident is the most exciting way to launch our new women's collection," explained Pam Bristow, Executive Vice President of Marketing and Brand Strategy at Ghurka.
Guests included Kathereine Rothschild, Brenda Jewett, Suzanne Levit, Michael Purdy, Marianne Pederson and Holly Ferrell.
A portion of proceeds benefitted the Zoological Society.