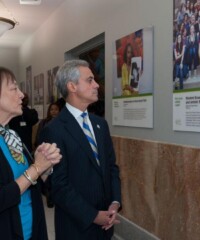 Mayor Rahm Emanuel and 200 partners, donors, and supporters of Facing History's new multimedia exhibition Choosing to Participate celebrated the show's SEpt. 24 opening at the Chicago Public Library's Harold Washington Library Center.
ABC 7 News co-anchor Cheryl Burton emceed the private event, which included chicken potpie and shepherd's pie hors d'oeuvres, cocktails and guided tours of the exhibition, a striking and moving display examining the history of injustice through a series of individual stories, like the Little Rock Nine.
Guests like Facing History's co-founder Judy Wise, Chicago Public Schools CEO Jean-Claude Brizard and Allstate CEO Tom Wilson checked out the installations about people and communities that have experienced racism and injustice.