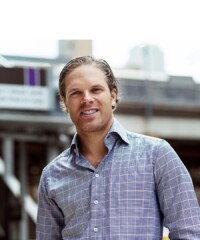 Brian Spaly founded Bonobos when he couldn't find a pair of pants that fit properly. Years later, the 35-year-old Stanford business school grad created Trunk Club out of frustration with the boutique shopping experience. With the help of a stylist, via phone or email consultations, Trunk Club FedExes clients eight to 10 items; after trying things on at home, they can ship back returns. What genius idea will Spaly come up with next?
Great style is relative. How do you know what's right for Trunk Club?
We look for brands that focus on great-fitting, high-quality clothes with solid value, like John Varvatos, Jack Spade, Eton, Jeremy Argyle, Gant Rugger.
What's your personal style?
It's a combination of Ivy preppy/California skier/Northern Midwest lakehouse culture.
What's next for Trunk Club?
We've started a pilot program of custom suits and shirts. We're launching a designer trunk from Eton. And we're contemplating a new office in another large city—perhaps Dallas, Atlanta or San Francisco.
A party for trunk club's big move
It's hard to imagine plusher headquarters than Trunk Club's River North penthouse. The revelers who joined CEO Brian Spaly to inaugurate the new digs agreed, as they sampled food prepared by Jared Van Camp (Old Town Social, Nellcôte) and drank craft beer and cocktails. The celebration was cohosted by Gant Rugger, one of the biggest lines that TC stylists pull from. The expansive space is large enough to accommodate the company's growing team and to display its menswear collections. But with a bar and impressive city views from the roof deck, will anyone ever want to go home?
Click through the DuJour gallery for photos from the Trunk Club party.