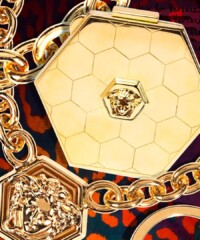 Over the last few years it's become clear that Donatella loves a good collab: The Versace doyenne has brought on the likes of J.W. Anderson and MIA to add their touches to the Versus line, worked with L.A. interiors designers Simon and Nikolai Haas of the Haas Brothers on a line of furniture, and who could forget the H&M x Versace madness back in 2011? Now, she's revisiting a partnership with said Brothers to create a limited-edition collection of design and fashion items inspired by the glamorous, gilded, Medusa-laden legacy of Versace.
Out now, the collection is comprised of small items like leopard-painted tees, gold hexagon-shaped compacts, shell-inspired clutches and medallion necklaces among other bold pieces. The Haas Brothers, who have previously been commissioned by the likes of Lady Gaga and Peter Marino, added their imaginative and contemporary touches throughout. As Donatella describes it, "they take the codes of Versace and bring them somewhere new, pushing Versace forward into a whole other world."
Take a look through the gallery to view pieces from this covetable new collection.