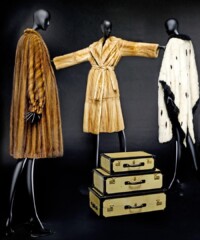 If you've ever seen a fur coat in a movie, chances are it was made by Fendi. The famous Italian luxury-goods company has a history of collaboration with the cinema that dates back to the 1970s, a time when Rome's Cinecittà studio was known as Hollywood on the Tiber.
This heritage will be marked in September by a month-long exhibition, "Making Dreams—Fendi and Cinema," at Milan's historic Teatro Manzoni (timed to coincide with Milan fashion week), detailing Fendi's involvement with the gilded world of Italian cinema. Beginning in the 1960s, premier designers such as Piero Tosi and Umberto Tirelli would haunt the Fendi workshop on Rome's Via Borgognona, and through them the five sisters met directors like Luchino Visconti, Federico Fellini and Mauro Bolognini.
As Silvia Fendi, the firm's current creative director of accessories and menswear, recalls: "At that time, everything used to start with relationships, rather than a marketing strategy. My mother was great friends with designers, actors and directors. They used to go out for dinner together and talk informally about projects and ideas." Fellini, in particular, was very close to the Fendi sisters, giving them the nickname le mie Fendine (my little Fendis). He was a passionate fan and often talked about a historic fashion show that Fendi staged in Cinecittà's studio five.
Notable examples of Fendi's contribution to cinema span genres and decades, ranging from the ermine cape worn by Teresa Stratas in La traviata to Madonna's mink coat in Evita (an exact replica of the original Fendi owned by Evita Perón) to Halle Berry's red fox cape in the James Bond movie Die Another Day.
"There is a kind of poetic symbiosis between the arts of making cinema and making fur. Both involve cutting, splicing, editing, reassembling," says Patrick Kinmonth, who designed the exhibition with Antonio Monfreda through their internationally renowned design firm, Kinmonth Monfreda, whose work includes the stunning 50th-anniversary retrospective Valentino: Master of Couture, staged at London's Somerset House in 2012. He and Monfreda have constructed this exhibition across seven separate modules, one of which will show a film of the craftsmanship involved in the creation of a Fendi fur. Other modules will display design sketches, a selection of furs and accessories created for movies and a documentary featuring interviews with Tosi and legendary director Bernardo Bertolucci.
The centerpiece, however, will be a restored version of Visconti's 1974 movie Gruppo di famiglia in un interno (Conversation Piece), starring Burt Lancaster and Silvana Mangano, for which Fendi did the costuming. As Tosi recalls, "Mangano's role was that of a wealthy flamboyant woman, a woman who likes to flaunt her wealth. I thought of the Fendi sisters. Visconti said, 'Absolutely perfect. The important thing is for Silvana to agree as well.'"
Mangano traveled to Rome to see Fendi's haute-couture show. As Carla Fendi, one of the five original sisters and today honorary chairwoman of the label, recalls: "It was a triumph. She said, 'I don't just want to wear all the Fendi furs: I want their blouses, accessories, pants. I want everything.'"
Click through the gallery to see the Fendi pieces worn on screen, and watch the "Making Dreams—Fendi and Cinema" video below:
MORE:
The Scotland Artisans Saved by Chanel
How a Small Spanish Town Became Stuart Weitzman's HQ
Italy's Ultimate Autumn Getaway