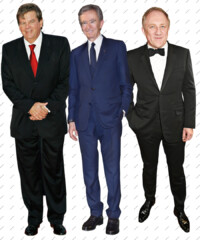 Even in this tumultuous economy, the art market is estimated to generate about $64 billion a year. So it makes sense that luxury brands would follow the money in creating collectible designs for their well-heeled clients. In doing so, those brands, and the executives who run them, aren't just helping their bottom lines—they're acting as modern-day patrons, not only sponsoring artists to act as ambassadors and in-house creators, but going so far as to establish cultural institutions that will surely outlast any trend. 
To be fair, collaborations like this are rooted in history. Starting in the 15th century, Italy's Medici banking dynasty commissioned both private family portraits and religious paintings for public display from artists like Fra Filippo Lippi and Sandro Boticelli. It could be said that, as an architect, painter, and sculptor, Michelangelo worked as a sort of creative director for the Catholic Church. And by championing painters like Mark Rothko and Jackson Pollock, Peggy Guggenheim, an heiress to her family's mining and smelting fortune, ushered in the era of the Abstract Expressionists (her Peggy Guggenheim Collection, in Venice, is perhaps that city's most important modern art museum). Similarly, her uncle Solomon Guggenheim's collection of works by abstract artists such as Robert Delaunay, Wassily Kandinsky, and Fernand Léger would form the basis of New York's Guggenheim museum and foundation. 
Today, businessmen like Louis Vuitton Moët Hennessy chairman Bernard Arnault, Kering chairman François-Henri Pinault (who oversees luxury houses like Gucci, Saint Laurent, and Balenciaga), and Richemont chairman Johann Rupert (whose corporation holds Cartier, Montblanc, and IWC) lead the charge in bridging art and commerce. The men's passion has had a trickle-down effect on the brands each oversees. And, like generations of art patrons before them, they've formed cultural legacies that should prove lasting. Here, a closer look at this new breed of benefactor.