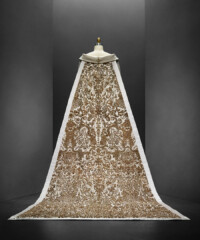 The Costume Institute's next exhibition, Manus x Machina: Fashion in an Age of Technology, will explore the impact of technology on the fashion world, specifically haute couture and avant-garde ready-to-wear.
The exhibition will feature over 100 designs ranging from a 1880s Charles Frederick Worth gown to a 2015 Chanel suit by Karl Lagerfeld. To emphasize the contrast between detailed handwork and machine-hewn technology, ensembles featuring lacework and braiding will be placed adjacent to those integrating laser cutting, 3D printing and computer modeling. 
"Fashion and technology are inextricably connected, more so now than ever before," said Thomas P. Campbell, Director and CEO of the Met, in a release. "It is therefore timely to examine the roles that the handmade and the machine-made have played in the creative process. Often presented as oppositional, this exhibition proposes a new view in which the hand and the machine are mutual and equal protagonists." 
The innovative designs will be on display from May 5 through August 14 in the Robert Lehman Wing and Anna Wintour Costume Center. Click through the attached gallery for a sneak peek at what to expect.