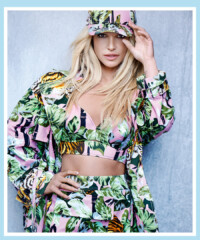 For as long as she's been the princess of pop, Britney Spears has been the denim queen. From her and Justin Timberlake's famed Canadian tuxedo stunt at the 2001 AMAs to her popularizing microscopic jorts throughout the aughts, Spears has long been synonymous with the all-American textile. So now, as a 36-year-old certified icon, it's only fitting that Spears's first luxury campaign would be to promote the denim-centric La Collection Memento N°2  from French-Japanese clothiers Kenzo.
Shot in Los Angeles by photographer Peter Lindbergh late last year (as Spears teased on her exalted Instagram account) the campaign features the pop-star vamping against an industrial streetscape wearing the collection's streetwear-inspired looks. Alternating between '80s-esque sweats and sky-high denim lace-ups and booty shorts tailor-made for a Las Vegas residency, the campaign channels multiple Spears-ian eras, from Britney the Mouseketeer to Britney the everlasting diva.
Orchestrated by Kenzo creative directors and Opening Ceremony founders Humberto Leon and Carole Lim, the Spears campaign closely follows another nostalgia trip by the icon-loving duo, that one to Disneyland for Opening Ceremony's spring presentation in March. Leon and Lim handpicked Spears for her iconic status, which Leon says form-fits to the motif-laden Memento N°2's theme of "icons." "She is a legend in her field," Leon says in a statement. "We will remember her for the rest of everyone's lives as an icon. She's up there with Michael and Madonna and everyone who we consider icons."
But Leon adds that Kenzo's Spears-fronted campaign not only reflects our cultural memory, but also traces the company roots; the name La Collection Memento N°2 is a reference to the brand's first denim collection in 1986. "At this time, designer denim had come and gone," Leon says. "Kenzo Takada was taking this super Western material and really owning it. The collection has a cool American vibe to it with his Japanese background mixed in."
In a quote to Kenzo, Spears attests to the viability of the fun and funky fabric. "I did lots of denim when I was a kid, and still do," she says. "It's really versatile and fun, and just goes with everything. Jeans and a tee shirt or a cute top are like my go-to outfit when I just want to be casual and comfy."
As utilitarian as the textile may be, it seems the perfect vessel for Spears's first foray into the luxury market, iconic and everlasting as Spears herself.
Main image: Britney Spears by Peter Lindbergh for Kenzo's La Collection Memento N°2