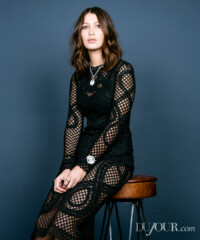 "Yo," shouts Bella Hadid, the 18-year-old daughter of Yolanda Foster, of The Real Housewives of Beverly Hills fame, as she saunters into her mother's photoshoot. It is everything that word can be at once: a greeting, a heads-up and a cutesy out-loud emoji. 
Foster, holding a pose with both the discipline of a yogi and the grace of a ballerina, asks in that motherly, you-better-not-be-drinking-out-of-the-milk-carton way, "Did you just say 'yo' to me?"
Bella smiles. She knows she's not in trouble. She knows her mother is seeing her, as so many mothers of 18-year-olds see their daughters, as not her little girl anymore. "I knew it would get your attention," Bella says.
Yolanda laughs. "That it did!" She smoothes her ivory Emilio Pucci dress, leans in and whispers in my ear: "The next generation!"
Yolanda—the kind of woman impossible not to call by her first name—was a young model in her own right before marrying 16-time Grammy Award winner David Foster, best known for writing the theme to St. Elmo's Fire. Just take a gander at the Throwback Thursday trump cards she plays on Twitter and Pinterest. Now, Bella is following in her mother's stiletto footsteps, but this is not your typical reality-TV mother-daughter pair. Foster and her daughters—Bella's older sister is the ubiquitous model Gigi—aren't catchphrase debutantes like some TV families. These are women for whom the spotlight is an extension of a natural, girl-next-door enthusiasm. The ascent of this accessible trifecta has done more than put their 1% lifestyle on display for the masses; it's made it seem almost normal, in the meantime installing Foster as a fan favorite among the generally unlikeable Housewives. An Instagram account for Foster's impressively organized refrigerator has almost 15,000 followers. 
The only thing unoriginal about Yolanda is that she is not an original member of The Real Housewives of Beverly Hills. She joined in season three and in a way is the franchise's Heather Locklear, the bombshell you drop in as a fifth-inning pitch hitter. Whereas other mother-daughter socialites pretend they are more like distant sisters or gal pals, Yolanda and her daughters, Bella and Gigi, who both now live in New York, are more clearly a family. 
"I love you!" Yolanda coos to a golden retriever named Jake, as she pads around barefoot in a 7,000-square-foot apartment in Manhattan's Meatpacking District, one specifically outfitted with bells and whistles designed to optimize healthy living. Yolanda, who's publicly dealt with Lyme disease, seems wowed by the swank trappings. Jake immediately starts following her. Who wouldn't?
It's funny, though: She feels too much like a lowercase housewife to ever be a Housewife. She doesn't wear flashy statement jewelry, her platinum hair is more about playful bounce than shoulder-pad volume and she doesn't don her boxy glasses because a stylist commanded it; she wears them because, when she's well, she answers her emails on her BlackBerry. Among a bevy of alpha amazonian scene-stealers, she is Bravo's beta babe, the one for whom there is no I in Housewives. In a reality-television demimonde where the drink of choice is more likely to be a dirty martini thrown in someone's face, Yolanda favors warm herbal teas and cold-pressed juices. 
She's still in some ways the ingénue who arrived in New York so many years ago. "I didn't know they made apartments this big," she gasps upon entering. 
It's been a long journey for the Dutch beauty, who began as a freelance hair stylist and was called onto the runway as a last-minute stand-in at a Frans Molenaar show. Yolanda was spotted by Eileen Ford, of the star-making Ford modeling agency, who quickly jetted her off to the runways of Paris, Milan, New York and Tokyo.
Yes, she grew up with her own pony, but she also washed dishes and silverware at a Chinese restaurant to pay for it. She knows luck cuts both ways and that, when it comes down to it, you make your own. 
It's a cliché in celebrity profiles to gape at how normal stars can be. But for Yolanda and Bella it's not a performance. Yolanda shops at Target. She has an AOL account. She wears clogs from her native Holland to calm herself down when she's nervous, and the only brand name the two endorse in our interview is Jenga, which is also their only destructive habit. 
In a photo shoot, Bella holds her mother's hand and cheers, "You look cute today!" Yolanda, for her part, seems mesmerized by her daughter, all dolled up. They make goofy faces at each other and do silly voices. When the photographer offers direction, Yolanda laughs and says, "Sorry, we weren't paying attention," her face squished into a pout. It's a girl's-night-out moment. 
Bella bears a resemblance to that other girl next door, Jennifer Lawrence, while Yolanda radiates searing Ellen Barkin vibes. Neither mother nor daughter use that glamour as leverage, but rather to build bridges. They listen. They ask questions. They have a sense of awareness that is very cosmopolitan. 
"People who start in L.A. end up in L.A.," says Bella, her mother nodding. She is in New York for a reason: studying photography at the Parsons School of Design. "Everyone here is too busy living their dream to notice you."
She still marvels at snow in New York and, yes, she still likes her very California smoothies (ginger, apple, cayenne), but has also already found her favorite New York City restaurant, about which I was sworn to secrecy, but it's Italian and speaks well of her foodie cred.
But maybe their best connection—closer even than the one they forged bedside the last time Yolanda was knocked out by Lyme disease— is Bella's equestrian passion. Yolanda boasts that Bella wants nothing less than the 2016 Olympics for herself. Even with work and school, Bella finds time to stamp good luck symbols into the mud. Their connection feels less like the passing of a torch and more like gathering around a shared campfire. 
On a recent visit to Bella's apartment, Yolanda dug into her daughter's closet and helped figure out a budget. They changed light bulbs. It was hopelessly ordinary. It wouldn't have made good television.