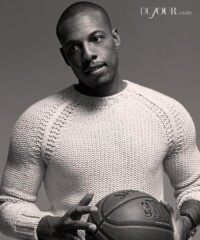 It was Thursday evening, just before sunset, and a group of grade-schoolers were shooting hoops at a public court in Greenpoint, Brooklyn. A black Escalade pulled up, and as the door flung open, a pair of impossibly long legs emerged. A man climbed out—all 6 feet 7 inches of him—and glided onto the paint, basketball in hand. The game came to a screeching halt.
"Three on three?" His booming voice ricocheted off the concrete. He pointed toward the shortest kid, a boy in blue mesh shorts, and then toward a girl—the only one in the group—with a metal smile. "Me, her and him versus y'all three. Let's go!" The kids looked at one another and exchanged nervous laughs, presumably unaware they were about to play a pickup basketball game with Paul Pierce, a 10-time NBA All-Star, future Hall of Famer and the newest addition to the Brooklyn Nets.
As the game commenced, a photographer and his team of tattooed assistants snapped away, the city skyline in the distance. If there were ever a moment that truly captured Paul Pierce's initiation to New York City, this was it.
In July of this year, Pierce was part of a landmark trade that moved him from the Boston Celtics—where he played for all of his 15-year career—to the Brooklyn Nets in an effort to bring experience, toughness and a championship pedigree to the team.
As he readies for his first game as a New Yorker, we chatted with the 35-year-old small forward about transitioning from Boston, bad-mouthing the Knicks and how fatherhood has affected him on the court.
DuJour: You just moved to the city three weeks ago—what's the verdict?
Paul Pierce: I feel good about living in New York. I've been playing in Boston my whole career, so this was an opportunity to see what the bright lights, big city was all about. It seems like the world starts right here in New York. Why would you ever want to leave? It's amazing.
DJ: When the trade was made official, how did you find out?
PP: I knew it was coming. [My agent and I] talked about it, and there were a few options out there, but we just felt Brooklyn was the best fit. So I kind of had the feeling leading up to the trade that something was going to happen with Brooklyn. But it's not the case in all situations. Sometimes guys find out from Twitter or Sports Center.
DJ: There's already been a lot of trash-talking between you and the Knicks. Is it genuine or are you just trying to create buzz around the rivalry?
PP: I've never really liked the Knicks anyway. We had a rivalry being in Boston…so I moved over to Brooklyn and we're still in the same division playing for the same division championship, ultimately to see who's going be the king of the East. I think the rivalry wouldn't be as good if you didn't have both teams at the level that they're at.
DJ: What's it like living in the same city as your rival?
PP: I think it's great for the city—it's great for sports. A lot of the fans that may have been living in Brooklyn, cheering for the Knicks, now they're gonna convert over to the Brooklyn team. People love the New York Knicks and now, we're giving people a reason to love Brooklyn.
DJ: Is it intimidating moving to a new team after having been in Boston for 15 years?
PP: It wasn't as intimidating for me personally; it's just more about making the adjustment with the family. I was scared for them. Like, where are we going live, where are the kids going go to school, how are they going to adjust? But that's behind us now.
DJ: You have two girls and a 5-month old son, Prince—do you think he'll follow in your footsteps?
PP: I can't ask him to try to be like his dad. Whatever his path is going be, it will be. And I just want to put all the best opportunities out there for him.
DJ: What about your daughters—are they into sports?
PP: They're 5 and 2, and definitely girly girls. I try to get them to stop handing Prince their play dolls, because he's part of the man group now. We need to get him some GI Joes.
DJ: What's the best part about fatherhood?
PP: They don't care about Daddy playing basketball—they don't care about Daddy having a bad game. When I come home, it's all hugs and kisses. Before I had kids, I'd be down for a couple days after a bad game. But now if I have a bad game, I go home and the kids don't care. They're just smiling and want to come hug me and they're happy that I'm home. I love it.
DJ: Are you a superstitious type of guy on game days? Do you have any rituals?
PP: I don't know if you'd really call them superstitions. I just stick with what works. I eat the same thing before every game. Grilled salmon, baked potato, broccoli. If I take a certain route to a game and we play well and win, then I want to take that route again. But if we lose, I might try a different route. Or if I wear a certain suit and have my best game, I'll save that suit for another big game. Little stuff like that…I guess in a way I am superstitious.
DJ: What players did you idolize growing up?
PP: Magic Johnson. Because I grew up in Inglewood, California, I would watch the Laker games and then I'd go down to the court and try to emulate him. He was really my motivation to play basketball and try to be one of the best.
DJ: Did you ever see yourself playing at the level you're at now?
PP: I've always had the vision. It was all about the time and the workouts I put in. I was willing to sacrifice some of the things in life that other guys did when I was 21 or 22. When people were going out and partying all the time, I might have been in the gym, working on my craft, trying to get better. So in a way I did see myself being at the level I'm at today because of the hard work I put in.
DJ: When you google "Paul," your name is the first search result—I guess that's how you know you've officially made it.
PP: Not McCartney?
DJ: Not McCartney. Not Paul Newman…not even the apostle.
PP: Oh wow! Man, I guess there's a lot of people interested in the things I've done in my career and my life.
MORE:
Eric Decker Touches Down at Casa de Campo
Victor Cruz Is In Control
The Softer Side of Serena Williams